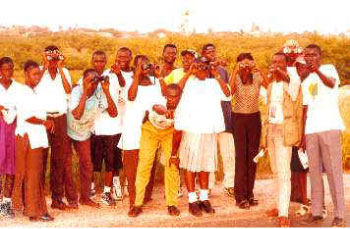 The West African Bird Study Association (WABSA) recently erected ten sign boards at Kartung Wetland Reserve, in strategic locations within the reserve. The exercise was done in collaboration with local communities and the management committee of the national park.
Speaking to journalists shortly after the erection exercise, Mr. Lamin Jobaate, executive director of WABSA, said the purchasing and preparations of the sign boards was funded by the Birdlife International.
West African Bird Study Association (WABSA) was formed in April 1994, by indigenous Gambian youths engaged in the preservation of the flora and fauna.
WABSA's main objective is to support governmental and non-governmental agencies, geared towards formulating policies that effectively and practically mainstream bird study and environmental protection, which plays a vital role in sustainable development of the country.
The association, which is a registered charitable and non-profit making conservation project, has its programmes of activities based on objectivity, thus reflecting on the current situation regarding birds and their habitats in West Africa.
For his part, Modou Njie, administration and financial manager of WABSA, said any activity geared towards preserving and conserving of the wetland is paramount.
According to him, the wetland reserves have approximately a total land area of about 8km square and some hundreds of metres in sea.
He disclosed that there are seven different types of habitats for birds and animal species, namely wetland, Savannah scrub, agricultural land, urban area and mangroves/tidal estuary.
Noting that the erected sign boards will give clear directions and visibility of the reserve park for visitors, tourists, researchers and even intruders to take note of the national parks, he said, the importance of parks cannot be over-emphasised since it serves as a habitat for wild species. He disclosed that there are over 280 bird species within the reserve parks, which makes it beautiful and unique for tourists, researchers and bird watchers.
Mr. Morgan Jabang, the park warden, hailed WABSA for what he described as their timely intervention and important gesture.
Jabang used the opportunity to thank the community and the Department of Parks and Wildlife for their technical support.
Read Other Articles In Article (Archive)