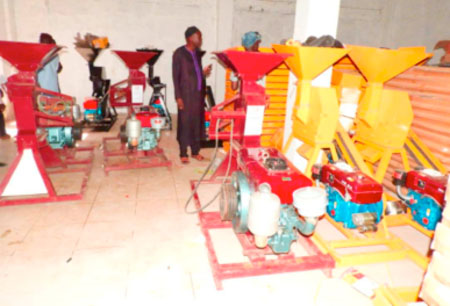 Fifty communities across the country have received donation of milling machines by the President Barrow Youth for National Development (PBYFND). Representatives of the beneficiary communities on Monday gathered at the organisation's head office at Kairaba Avenue to receive the donated machines.

Speaking at the presentation, Seedy Lamin Bah, programme manager of the organisation said they have so far implemented 95 projects across the country which include provision of milling machines, boreholes, support to horticultural gardens, public toilets and mosques.
"Today, we are giving out 27 milling machines to benefit 50 communities across the country and 23 others will come in phase II. A total of 50 milling machines will be going out to various communities within these few months. This is part of our social responsibility to make sure all the needy communities who are in need of the milling machine get them," he said.
Kebba Lang Fofana, Secretary General of the organisation appealed to the beneficiaries to utilise the machines wisely and for their intended purpose. "Our projects are meant to unite people. They are for all Gambians irrespective of tribe or political affiliation," he told the recipients during the presentation.
Mr Fofana urged the beneficiaries to house the machines in good accommodation. "We have received more than two thousand applications for milling machines from across the country, but for now we are able to secure only 50. We need your support to take great care of these machines so that they can last long," he told them.
Communications Manager of the organisation, Musa Ndow told the beneficiaries that the milling machines are multi-faceted and they are potential revenue generation for them, if they utilise them wisely.
"Feedbacks from the first beneficiary communities of the milling machines indicate that they have made some profit savings from the proceeds of the machines," Mr. Ndow told the new beneficiary communities.
The beneficiary communities include Sintet, Bondali, Brikama Wellingara, Gunjur Kunkujang, Sanyang-Fullakunda, Farato Bojangkunda, Brufut Sanchaba, Sukuta Bantaba, Laming Kanbeng Kafo, Bundung Borehole, Brikama Jalamba, Jiki-Sembe Brikama, Tallinding Kunjang, Tobacco Road Banjul, Wellingara for Kairo, Kerr Njayen CRR, Tujereng Nemakuta, Kiang Jirof village LRR, Bambara village Foni, Nema Fulla-kunda, Sandu URR, Kaur Lower Saloum, Sinchu Chanderr Village CRR, Ebow Town Women KMC, and Yero Berie-kunda in CRR.
Read Other Articles In Article (Archive)