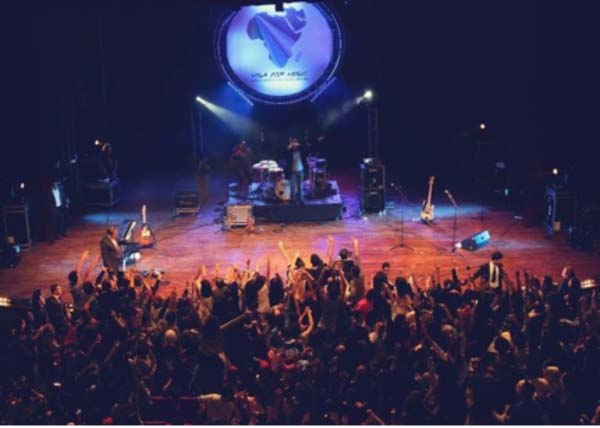 The international market for African and Middle-Eastern music has released additional information for the 2nd edition on November the 11th to 14th 2015, in Rabat (Morocco).
Many activities will be organized during the event: professional meetings, conferences, exhibition, screenings, and 40 showcases to spotlight artists from Morocco, the African continent, the Middle East and the Diaspora.
SHOWCASES - Moroccan bands will be completed by the rocker Jbara, the talented lute player Said Chraibi, the amazigh singer Ali Faiq, the punk-rock band Haoussa, a Moroccan-Spanish duo with NabylaMaan& Carmen Paris and MalikaZarra's exotic voice.
They will be joined by the Algerian bluesman Cheikh Sidi Bemol, the Mauritanian rapper Monza, and the electro-oriental fusion band Egyptian Project (Egypt – France).
Also expected in Rabat is the barefoot prince of Burkina Faso, Alif Naaba, Elida Almeida and her folk music with Santiago's rythms (Cape Verde), Blick Bassy's fusion of traditional Cameroon musics and soul, and the Ethiopian jazz band Addis Acoustic Project.
From across the Atlantic, we will welcome the Brazilian singer and composer Marcelo Jeneci, the World Kora Trio (France – United States) with various influences from all around the world, ArashKhalatbari for an hypnotical electro world, and the West Indian music of Wesli Band (Haïti – Canada).
Two DJs will perform on Rabat stages: Mood Du Mahmoud, with a set of popular songs which make the Arab world dance, and Hatim, who builds bridges between traditional music and digital remix art.
Overview of the artistes announced previously : Jamal Nouman Sextet (Morocco), Oum (Morocco), Mazagan& Hamid El Hadri (Morocco), Dizzy Dros (Morocco), Nadia Khaless Trio (Tunisia – Morocco), Imed Alibi (Tunisia), Djimawi Africa (Algeria), GabachoMarocconection (Spain – Morocco – France), Al-Mu'tamid, the king of Al-Andalus (Portugal – Spain –Morocco), Moh ! Kouyate (Guinea – France), Maya Kamaty (Reunion Island), Alsarah& the Nubatones (Sudan), Smockey (Burkina Faso).
JemimahSanyu and Unit 446 (Uganda), Autostrad (Jordan), Cairokee (Egypt), Elcontainer Band (Palestine), IlhanErsahin (Turkey), Tarabband (Sweden – Iraq), Groupe Creole (Colombia), 7 Estrelo (Brazil).
CONFERENCES- Are artistes and cultural operators supposed to reconcile human communities? In partnership with the International Music Council.  Celebrating the 10 years of the Unesco's 2005 Convention, In partnership with Unesco. Migrant artists: citizen participating in Africa's development, in partnership with Zone Franche
Read Other Articles In Article (Archive)