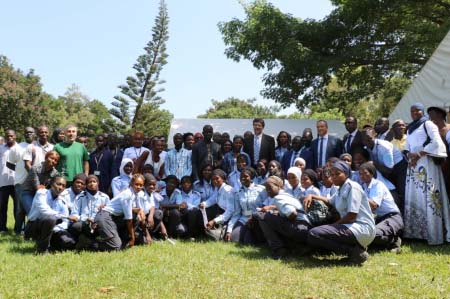 Medical Research Council (MRC), in partnership with United Nations Industrial Development Organisation (UNIDO) Wednesday launched a 501.33 Kwp solar photovoltaic system under the theme: Greening the productive sectors in The Gambia.

The renewable energy project was funded by the Global Environment Facility (GEF).
Umberto D'Alessandro, MRC Director said the project has many benefits not only for their unit, but for The Gambia and beyond. "It will promote industrial growth and technological progress, providing a platform for cutting-edge scientific research across the West Africa sub region," he said.
He said in January 2020, they will host their first planetary Health conference in The Gambia to showcase and stimulate existing and new planetary health research conducted in West Africa, with a focus on local and early career researchers.
Representative from the Minister of environment, climate change and forestry, Lamin Dibba said the government of The Gambia places high priority on the provision of reliable, adequate and affordable energy service to every corner of the country. "The government of The Gambia embarks on the ambitious goal of achieving universal energy access by 2030."
He said promoting the utilization of these renewable energy resources will not only contribute in meeting the country's energy demand, but will go a long way in achieving their obligations under the multilateral environment agreements.
The Government of The Gambia, Mr Dibba added, has tasked itself through their nationally determined contributions to reduce greenhouse emission by 44.5% by 2025 and by 45% by 2030.
Christophe Yvetot, representative of United Nations Industrial Development Organisation (UNIDO) said the main aim of MRC's project is the production and consumption of electrical energy from renewable sources in order to reduce the power bill of the activity developed by the facility to become more competitive and reduce its energetic dependence.
"This project has undertaken several capacity building activities including trainings for youth and women to become leaders of the energy transformation in the Gambia" he added.
Read Other Articles In Article (Archive)