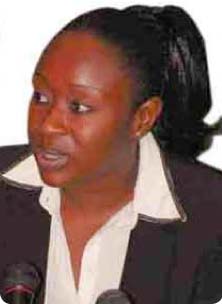 The Attorney General and Minister of Justice, Mama Fatima Singhateh, has said that "The Gambia has adopted laws and strategies in ensuring the implementation of the African Charter on Human and Peoples' Rights, regional and other international human rights instruments.
Minister Singhateh was speaking on Monday at the opening of the 56th ordinary session of the Africa Commission for Human and Peoples' Rights at the Kairaba Beach Hotel in Kololi.
Addressing the participants, Madam Singhateh said the Gambia government has been putting in place a legal framework for the establishment of a national human rights commission that would address human rights issues in the country.
"It must be said the government of the Gambia has made great progress in putting in place the legal framework in ensuring that the national human rights commission is established and once it was established, it would go a long way in addressing human rights issues in the Gambia," she said.
"I am made to understand that other African countries have also made great strive in the protection of human rights in their respective countries."
Minister Singhateh added: "The Government of The Gambia has been working steadily towards improving the lives of its citizenry and ensuring that its obligation to the African Commission and Human Rights Charter and other regional and human rights instruments are adhered to."
To this end, she added, The Gambia has made tremendous strides in areas such as health, education, empowerment of women, youths, children issues and agriculture.
She further revealed that the African Commission for the past 30 years had been working tirelessly towards the promotion and protection of human rights on the continent.
The chairperson of the African Commission on Human and Peoples' Rights, Kayitesi Zainabo Sylvie, in her statement, said the excessive use of force by law enforcement officials in some state parties is not only unjustifiable but also a violation of human rights.
In all circumstances, she added, not only during peaceful demonstrations but also in the course of routine police work, proper protection must therefore, be extended by law enforcement officials to members of the public.
In this regard, she pointed out, the Commission would like to reiterate its resolution adopted in the previous session on the rights to peaceful demonstration and continues to call on states to observe their regional and international commitments.
She further raised concerns that the work of the Commission is the emerging phenomenon of target attacks against persons with albinism, particularly within the Great Lakes region.
She said to that end, the Commission also reiterates its resolution on the prevention of attacks and discrimination against persons with albinism.
Read Other Articles In Article (Archive)