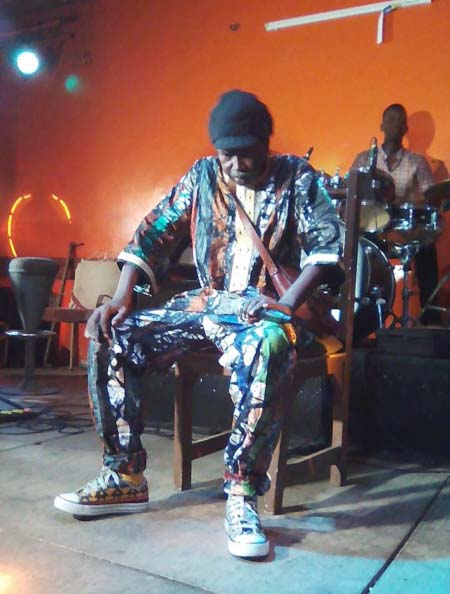 It is with great dismay music lovers have learned the death of artist singer Musa Afia Ngum, one of the great names of the African artistic community. The death has prevailed in its terrible suddenness, this Sunday 11 October 2015, plunging in the turmoil the entire community of Senegambia. Prolific creative musician of exception, talented artist, author, composer, Musa was part of a generation that is exceptional in the history of the past three decades that have marked senegambian music, a time where the Ouza, LabaSosseh, PapeSeck, Pap Tourray, Ismaïla Lo, Oumar Pene... to mention just a few were vibrate hearts groups as the Star Band de Dakar the Super Eagles and Guelewar Jazz Band of Banjul and Super Jamono de Dakar.
Popular outstanding musician, Musa marked his time by his very particular style. Indeed, he was known for its beautiful scenic performance, his compositions drawn from the Mandingo and Wolof legacy, his haunting and remarkable voice, emotion, and especially the intensity of his songs expressing Unity of Black people of Africa, love, pain, sadness and happiness, and which remained etched in the hearts of the listeners.
Senegambia has lost a great musician. Beyond the human qualities and exceptional artistic talent, Musa Ngum had endorsed the fight for the strengthening of relations between Senegal and The Gambia, by highlighting, in all his musical works, our traditions and common beliefs. It is difficult to express our resentment today. But the communicative cheerfulness of Musa, his generosity, his broad smile and his mocking laughter, we do hope that he died calmly, courageously and entered without fear in the Kingdom of the shades.
The artist singer Musa AFIA Ngum now lies at Touba where he was buried, but his music will continue to tint a special atmosphere of our daily lives, our evenings and other events where he showered us with his exceptional talent. As for testimonials on his remarkable musical career, they are unanimous and serve as a model for young artists.
The High Commissioner of the Republic of Senegal in Gambia presents its sincere condolences to His Excellency Sheikh Professor Doctor Yahya A.J.J. Jammeh, Babili Mansa, to his family, to the entire Nation sister of The Gambia and joins the prayers made for him, so that Allah The Almighty (SWT) Welcomes him to His paradise.
Sleep in peace, Musa, death cannot removed us your shadow, but your spirit, you remain to us as role model. Our regrets follow you in this blessed land of Touba where your friends, faithful to your memory, will come back to draw inspiration.
Read Other Articles In Article (Archive)