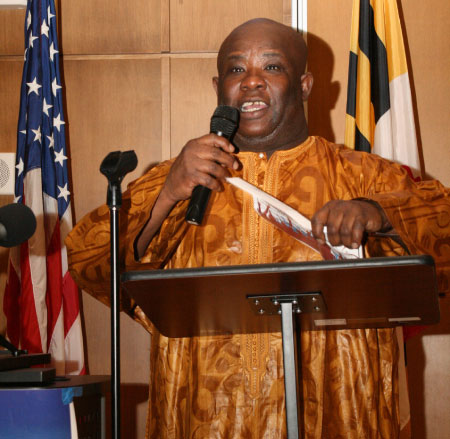 As part of our special coverage of the looming elections for the FA Presidency, Lamin Cham reached out to one of the most celebrated Gambian sports journalists, veteran and Gambia's youngest football commentator, the author of AN INSIDERS REVIEW OF GAMBIAN FOOTBALL, Tijan Masanneh Ceesay and asked him what he thought about Adama Halla Samba's Presidency.
Tijan covered Samba in the 1980s and has an extensive knowledge of the man both as a football player and an administrator and this is what the man who founded the best High School football team in Gambian history had to say:
"The football electorate will not go wrong on electing Adama Samba. This man is Mr Football and handing him the baton would have been the best thing for Gambian football since 2006.
"Indeed you are quite right, I worked with Hala years yonder when he coached Wallidan to four national titles and I also covered him briefly when he suited up for The Gambia Ports Authority at the '9' spot. I remember the greatest commentator in Gambian sports history, my Guru, Saul Njie, at the time would refer to him as 'the tall and lanky fellow, calm and cool with a canon of a foot'.
"He was as fierce as a competitor as you would think of and has always left everything he had on the field, never once saw him gave up even when his beloved Adonis was being bullied by Augustinians', when every player dropped the towel, I saw Halla play the rest of that game as it was his last and for me that's absolute leadership, no matter what the circumstance is, don't ever quit and Gambian football needs someone who does not quit and I do know for a fact, he is not a quitter."
To talk of how successful he was as a coach, I bet the records speak for themselves. In 1983, he took over a Wallidan team that was transforming itself to a more youthful team with mainstays like Lie Ndure, Ma Lamin Badjie, the late Pa Ndow, the late Demba Ndow, Ebou Mbye, Pa Matarr Njie, Ous Drammeh all leaving either by way of transfer to another team or permanent retirement.
What he first did was transforming the greatest football player ever, Alhagie Njie Biri, to a libero, what a delightful sight; and then brought in young talents like goalkeeper Ali Samba, Ebrima Bla Taal, Laity Njie, Pa Mataar Njie, Sheikh Ndure, Willie Jones, Kemo Fatajo, Joe Gomez (Tennis) and made Wallidan an immediate contender that headed out to play against Horoya FC of Guinea in the African Club Championships the following year 1984.
Amazed by his work, I once sat down with him for an exclusive interview that was published on my Sports page in The Gambia News Bulletin in 1984 and I explicitly remember asking him how he was able to put that team together that quickly and produced those records and I recall him telling me that if you have the tools to succeed, you should instill commitment and discipline in the process and success will be yours. If this was his formula as one of The Gambia's most successful local coaches, if not the most successful, I don't see why this 'working' formula should not be brought in for a brighter football future for our country and the great fans that have never given up come rain or shine.
Halla has never compromised his standards and I have seen him kick a star player out of the locker room before a big game against Young Africans at the Independence Stadium in the 80s because this particular player broke team rules and he did make clear that day to his team, "that he'd rather play a team that is committed to the respect of the game rather than a bunch of stars who cared less".
As a journalist who was in that locker room to obtain the line up for our commentary team and to some extent a spy for Young Africans, that action defined the person of Halla Samba and has left an indelible mark on my mind about the man who I believe should be handed over the realms of Gambian football with no questions asked.
In to-to, I have never been in any sort of politics because I have always believed it is one dirty thing that I want no part of. Maybe, this time around, some might ask if I am on the campaign trail for Hala Samba and the answer is an emphatic NO. My contribution to and love for Gambian football will never be up for conjecture and it is against this backdrop, that I am saying Halla is the right man to lead the football association. Saying so is based on my experience working with the man and his unquestioned acumen in the game. There are values associated with leadership paramount among which are honesty, calm, integrity, discipline and commitment; and if these are the values that the football electorate really care about, then Halla Samba is their man.
I therefore without any ambiguity and no reservation whatsoever, say that Gambian football will triumph under this Ingram Street and Adonis product.
Editor's Note:
Tijan Masanneh Ceesay was a household name in Gambian football in the 80s and has immensely contributed to the advancement of Gambian football. He was The Gambia's first junior football commentator and sat next to Saul Njie and Pap Saine for several years. He covered the national team then extensively both in and out of The Gambia. He founded the best High Schools team ever, Roots FC and also was managing editor for the first Football Daily in Gambian history. With such a football resume, Tijan is regarded as a football authority in this country and his contributions have always been valuable to the game.
Read Other Articles In Article (Archive)