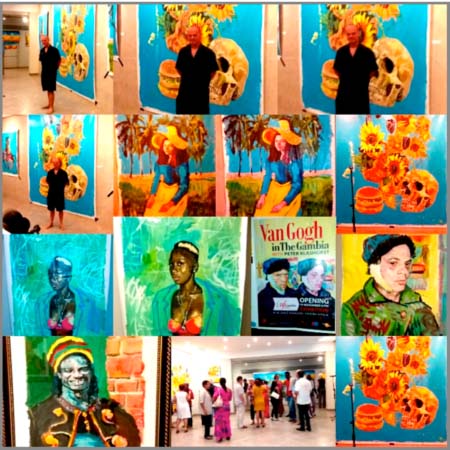 The prestigious Netherland based trademark Van Gogh held its premier exhibition in The Gambia on Friday 18 November 2016, at the Alliance Francaise Gambia, Kairaba Avenue.

The art display was the first of its kind exhibited by Van Gogh in The Gambia, courtesy of Peter Klashorst and Ngala Lodge.
The painting trademark is named after its founder and renowned historic painter Vincent Van Gogh, who like Peter was also born in the land of Rembrandt.
Peter Klashorst (also Peter Van de Klashorst) is a Dutch painter, sculptor and photographer born on 11 February 1957 in Santpoort.
He graduated cum laude from the Gerrit Rietveld Academie in Amsterdam in the early nineteen eighties.
During this period, a new art movement arose in Europe namely, ''The New Wild ones'', Klashorst became one of its leading personalities.
In 1987, klashorst was one of the initiators of ''After Nature'', an international art collection that aimed at reinventing painting and bringing art back to society and taking it out of the official highbrow art world.
In 1983, he received a prestigious Dutch Royal Award (Koninklijke Subsidie Voor de Vrije Schilderkunst) from Queen Beatrix.
Peter Klashorst is a renowned visual Dutch artist growing in strength year after year perfecting his visual expressions in colourful contrasts.
His paintings are not just about the pictures produced, but the seeking of an answer to the formal question on how to create the world.
Peter is one of few who have the talent to both paint as a master and show their soul by recklessly and without any compromise mingle life and work.
At the moment, Peter is all over travelling to all parts over the world getting his energy from people around.
In a brief interview with The Point, Peter Klashorst said his artwork displayed in the country was inspired by the beauty and culture of The Gambia and its people.
He thanked his friends at Ngala Lodge for inviting him to The Gambia to showcase his numerous artworks.
Mr Klashorst encouraged the youth of The Gambia to be inspired to start exploiting their talents in the art field.
The exhibition attracted highly distinguished guests from all spheres of the private and public sector, who witnessed Van Gogh's colourful opening display in The Gambia with Peter klashorst
Read Other Articles In Article (Archive)