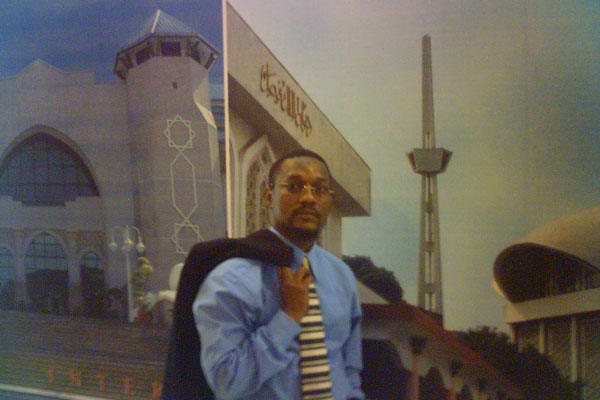 Insurance, booming in the country with the expansion in business and other factors in development, Momodou M. Joof, a young man born in 1963 in Farafenni has come up with Takaful Insurance, an insurance with Islamic touch bent on ownership by participants, mutual risk-sharing, surplus belonging to participants, investments are shariah compliant, uses re-Takaful as much as available. As compared to Conventional Insurance, where ownership is by shareholders, risk Transfer to insurer, surplus belongs to Shareholders/company; investments are unrestricted and may include "Haram", uses of Reinsurance that contains non-Islamic elements. As the only Islamic Insurance in the country, Momodou M. Joof makes it clear that Takaful does not exclude any religion. Mr. Joof talks to Augustine Kanjia talking about himself, how the Takaful came about, their policies and what makes them different from other conventional Insurance companies. Read on and see what the young man has in mind for all.
S&D: Who are you sir?
MM Joof: I am a motivated and conscientious person, committed and determined in my endeavours. I have developed working under pressure to plan ahead of and organize my time. I have a very good track record for maintaining high standards and expectations of working in my delivery of the National Curriculum. I am open to the unexpected and capable of putting up strategies in place to deal with them as to when they arise in the course of work experience. I have the ability to work on my own initiative and take responsibility for my area of work. This actually makes me the CEO of Takaful Insurance Company.
S&D: Tell me about your education that puts you on a strong footing.
MM Joof: I attended primary school in Farafenni and came to St. Peter's though it was not my choice because I wanted to do Science and it was not at St Peter's but I managed. I attended an intensive workshop on teaching practice and I obtained an unqualified teachers' certificate. I have a Teachers' Certificate from London. I have a Masters Degree in Management programme from Malaysia where the idea of Takaful Insurance was born. I also taught and produce good results at the Anglican Training Centre handling Forms 3 and 4 teaching Mathematics and served as Head of Department before resigning for the industry. I attended a lot of short term courses in computer, Management, African Alliance, Insurance. in Gambia, America and Nigeria. I attended the International Islamic Finance Forum (KLIFF) in Kuala Lumpur 2004 for its relevance to my research work on Islamic Insurance at the time.
S&D: Any intensive work experience that brought you thus far?
MM Joof: Yes! I worked as an Account Clerk in August 1988 with the Senegambia Insurance Company Limited. I rose to Senior Accounts Clerk and was sponsored by the company to the West African Insurance Institute in Liberia where I obtained my Diploma in Insurance Underwriting. I resigned from the Senegambia insurance in 1992. I joined Gamstar Insurance Company Limited in May 1992 as a Senior Superintendent, heading the Motor Underwriting Department, comprising of four sections, run by six man staff. We made US $ 270, 00 (Two Hundred and Seventy Thousand US Dollars) per annum. In 1993 I was employed by the Great Alliance Insurance Company Ltd. appointed as an Assistant Manager overseeing the marketing department, creating the Health department and serving as its first manager. The development brought about into being the Life Office, rising through the ranks. The Medical and Health department soon became a leader in The Gambia market offering health assurance, generating revenues of over Twenty Million Dalasis annually. I rose to the rank of manager- Life Office. I had served as the company's accountant prior to my further studies in Malaysia and had acted in some instances in the Managing Director's position when she was away. I have held treasurer position under the Islamic Association of The Gambia I served as visiting lecturer at WAII, and served as a Board Member, British Education Agency. And has receive a certificate of Honour by the Association of Business Executives (ABE) for promoting Education, travel and business sin The Gambia including the Vice President and Minister of Tourism.
S&D: Tell me about Takaful Insurance
MM Joof: Takaful Gambia is the only Islamic Insurance Company in the Gambia and West Africa so far. We offer Banca Takaful, Fire and General Accident, Marine, Medical and Motor Takaful. It is also the first insurance company in Gambia to pioneer profit sharing at the end of the term.
S&D: What concept does Takaful depend on?
MM Joof: Islamic Insurance is based on the concept of Takaful which means joint guarantee. The contract of Takaful as a business venture is based on the Islamic profit sharing of alMudaraba. In this regard, clients of TGL shall be entitled to earn returns on the contribution (Premium) paid in consideration for their participation in Takaful products provided by TGL subject to the declaration of profit by Takaful.
S&D: What are your guiding principles?
MM Joof: All operational matters, investment decisions, management and marketing of Takaful Gambia Limited are overseen by a Shariah Advisory Council composed of highly respected and learned local Islamic scholars. With well trained staff, only in the science of insurance but in the art of customer relations, to provide a personalized and efficient service, anticipating and meeting customer needs expectedly.
S&D: How did you build up the concept of Takaful in The Gambia?
MM Joof: I have long been in the Insurance arena and with long standing experience. When I went to Malaysia to study, during my attachment and course of staying, I saw this Islamic Insurance system and delved into asking lots of questions from my lecturers and those concerned. Having understood that the insurance actually seeks to plough back the profit to those who contribute and found out that it is quite different from the conventional Insurance that we all know I did my assignment then to set it up. My motivation was really the aspect of helping the poor based on the Islamic principles. I gathered materials and got lots of invaluable recommendations from prominent people in the Maysian society. His Excellency Professor Yahya A JJ Jammeh gave it his blessing and it went through the channel and was set up. 
S&D: How would you compare Insurance to African life?
MM Joof: It is only in Africa Augustine will go to a function, e.g. naming ceremony that will give gift. Some go with 5 Dalasis, 10, and so on only to be given or put in calabash. It is an everyday thing and those who receive such also go to do the same to others when it arises.
S&D: Could you talk a bit about the conventional Insurance, blending it with the concept of Takaful please?
MM Joof: Insurance uses the money collected, why do you keep the remaining after the year to say it is yours? That is what Islam is saying is wrong. At Takaful we share the profit. Takaful takes 20% of the profit to pay staff and run the business and the 80% is shared among the clients. Some will say the 20% is small for us but it has blessing so it will be enough to solve problems. For us at Takaful we support each other to remove the barrier between buy and sell. We must consider ourselves as operators, meaning whatever is coming does not belong to us but to the public or customers, we are only custodians. Risk as custodian has unfavourable outcome. When you climb a tree is a risk, since we are risk bearers it has a moral bearing. Takaful is the only Insurance that shares profit. If for the whole year or more you are not involved in an accident then your money is a saving for you. As a member of Takaful, you gain for not suffering any loss. Profit belongs to the participants who have created the fund. Those who suffer loss likewise gain and we give certificate for clients' participation. This is unlike the conventional insurance, where the profit is kept by the company.  People do not insure houses in The Gambia because they are afraid of the old policy of only giving and not sharing profit that is what Islamic Insurance is saying "We share the profit." We have come to make the difference.
S&D: Why are clients coming to insure with you?
MM Joof: Many are attracted by the fairness of the scheme. We help the populace by making them understand the difference. We ask ourselves, how far we can reach our people in the most economical way. We invest on Islamic Tibis called 'Sukuk al Salam.'
S&D: Have you started extending kindness to any one yet?
MM Joof: Yes Augustine, in Ramadan we were only eight months old, we provided a good consignment of sugar to GOVI, detergents to RVTH. We share with the poor 'fair play' is what we demand.
S&D: Any last words please?
MM Joof: This scheme is not only for Muslims, infact one of our first clients is a Christian association. Let there be no fear because Islam seeks to extend its love everyone and the scheme is there to help human beings. Christians will have the same benefit as any other insuring with Takaful.
We are committed to an effective and efficient process to solve customer problems at all times. We believe in doing the right thing at all times, quality and continuous improvement is the key. We will operate with the highest moral and ethical standard.
S&D: Where are you situated?
MM Joof: We are on 71 Dobson (x) Anglesea Street Banjul (Old Imigration building) or call 00220-4229820 Fax: 00220-4229823 or 9970 980.
Read Other Articles In Article (Archive)