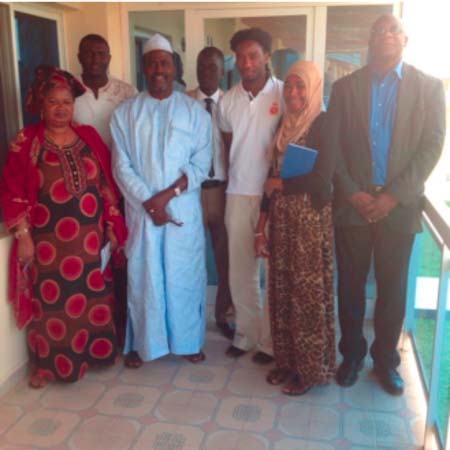 Speaking at the meeting, Mr. Jatta thanked the university for coming up with a National University Sports Association. This he said is the only way to promote university sports and sports education in The Gambia.
Jatta narrated his past Taekwondo experience and achievements, and promised among other things to help revive the dormant UTG Taekwondo Club to prepare for future World University Games and championships. He pledged support to the UTG through material donations, technical training and fostering linkage and collaboration between UTG and universities in Sweden.
Dr. Babucarr Njie, the director of Quality Assurance and Planning at The University of The Gambia, thanked Mr. Jatta for choosing to work with UTG Sports Association.This he believes is important if the university is to get quality athletes competing for the university team.
Other speakers included Mr. Tarro, the university registrar and Mrs Johns the internal auditor, who expressed similar sentiments and thanked Mr. Jatta for giving back to The Gambia, particularly the university.
Tarro further urged Mr. Jatta to also collaborate with the Gambia College for they have been in the field of sports (PE) for years and have a well-organized sports department.
The deputy Vice Chancellor welcomed Mr. Jatta and thanked him on behalf of the Vice Chancellor for his visit. He assured him that all their doors are open for any national development initiatives, particularly sports and education. Dr. Jah shared the importance of practicing martial arts as sports or for fitness purposes. He spoke on both the moral and health benefits of training in martial arts. "UTG will support any form of sports that brings moral values to the Gambian community," he said.
The university is here to set standards, and sport is a very import instrument in education, Dr. Jah added, and asked Jatta to come up with a good proposal for the revival of the UTG Taekwondo Club.
Read Other Articles In Article (Archive)