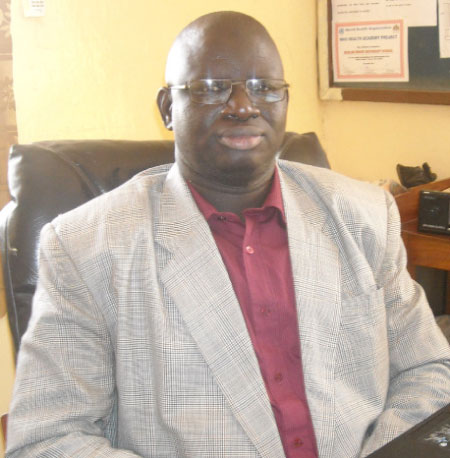 Welcome to another edition of Personality of the Week, the weekly column which profiles Gambian men and women of interest.
In today's edition, we bring you the profile of an educationist who needs no introduction in today's Gambia, especially among those working in education.
He is Mr Lamin Kambai Marong, Principal of the Gambia Muslim Senior Secondary school in Banjul and president of the Gambia Teacher's Union (GTU). He also proudly serves as a consultant for Kiang West people on matters pertaining to their children's education.
Mr Marong is now a most respected member of the teaching profession. This is despite an inauspicious start in Karantaba where he did not always benefit from the highest quality teaching at primary school.
He says: "Life was not easy for me during my tender years both at home and at school. But I thank the Almighty Allah that I have gone through difficulties to get where I am today."
Despite difficulties during his school career, Mr Marong has fond memories of some of his former teachers who made a big impact on him and still influence him today. These include his primary school teacher, Mr Ousman Yarbo, who is now the Executive Director of TANGO.
Sarja WD Sanneh, his former principal at Pakalinding Secondary Technical school, is also a strong influence, as is Father Vincent Commer, former principal at Saint Peter's Technical High school.
Other teachers who had a big impact on him are Ann Therese Ndong Jatta, his former literature and class teacher (and former Minister of Education), and Paul Webb, his former woodwork teacher, both at Saint Peter's Technical High school in Lamin village.
These teachers all took an interest in Mr Marong when he was a schoolboy, something which he still appreciates to this day. It was their passion for teaching which helped inspire him to choose the profession when the time came.
After completing high school, Mr Marong taught as an unqualified teacher at Saint Edward Primary school in Bwiam from 1984 to 1985. He then completed his Primary Teacher's Certificate (PTC) course at Gambia College where he graduated in 1987.
Twenty five years later, he is one of the most respected teachers in the country. He has a wealth of experience from serving as a principal in a big school and also heading the GTU.
Mr Marong likes to think of himself as a father and brother figure to both teachers and students at his school.
He says: "I believe in the equal treatment of my employees, because without equal treatment the stability of my institution can be affected." He believes that equal treatment is an essential element in any happy workplace. "People respecting you in life is important than people fearing you," he adds.
Mr Marong believes in teamwork, especially with his institution's stakeholders such as his line ministry, the regional office under which he is working, his school Board of Governors and the students.
Mr Lamin Kambai Marong was born on February 18, 1965 at Kiang Karantaba village in Kiang West District of Lower River Region, a most auspicious day to be born as any Gambian knows.
He is the first son to Mr Alhagie Ebrima Marong and Mrs Kitim Drammeh. He attended Karantaba Primary school from 1971 to 1977. He then proceeded to Pakalinding Secondary Technical school in Mansa-konko where he sat his secondary fourth leaving certificate examination in 1981.
He then went to Saint Peter's Technical High school in Lamin, where he sat his SC/GCE O Level examination in 1984. After completing high school, Mr Marong decided to become a teacher and following a brief stint at Saint Edward Primary school, he attended Gambia College where he gained his Primary Teacher's Certificate (PTC) in 1987.
Mr Marong then taught at Saint Edward's Primary school in Bwiam until 1989. While there, he served as the Gambia Teacher's Union (GTU) school representative. He then enrolled as a Higher Teachers Certificate (HTC) student at Gambia College in 1989.
After graduating in1991, he returned to teaching full time at Saint Edward's Secondary Technical school in Bwiam. While there, he served as the GTU district representative for Foni Kansala until 1992.
From 1992 to 1994 he was enrolled at the University of Bristol in the UK where he graduated with a B.Ed (Hons).
Following his graduation from university, he returned to The Gambia where he taught at Brikama Secondary Technical school from 1994 to 1995 where he was made senior master.
In 1995, Mr Marong became vice principal at Farafenni Senior Secondary school. He was later made principal in 2001 and remained in the post until 2007.
While vice principal at Farafenni Senior Secondary school, he won the Gambia Teacher's Union Senior Secondary School Level Best Teacher's Award in 2001.
Mr Marong left Farafenni in 2007 to take up a post as principal of The Gambia Muslim Senior Secondary school where he remains to this day. His tenure at the post was briefly interrupted in 2011 when he returned to the UK to complete an MA in Comparative and International Education at the University of Huddersfield. He graduated earlier this year.
As well as his duties as a teacher and principal, Mr Marong has held a number of posts at the Gambia Teacher's Union where he is the current president.
Teaching is Mr Marong's passion and vocation: "Teaching is a rewarding profession, not in terms of pecuniary benefits, but the inner satisfaction I get from touching the hearts and minds of so many people during their formative years. I… urge potential teachers to see any veteran teachers [to find out] why teaching is [so] rewarding."
If you would like to be featured in our Personality of the Week column, please email ldarboe803@yahoo.com or call 7799050. Only the most interesting people need apply!
Read Other Articles In Article (Archive)