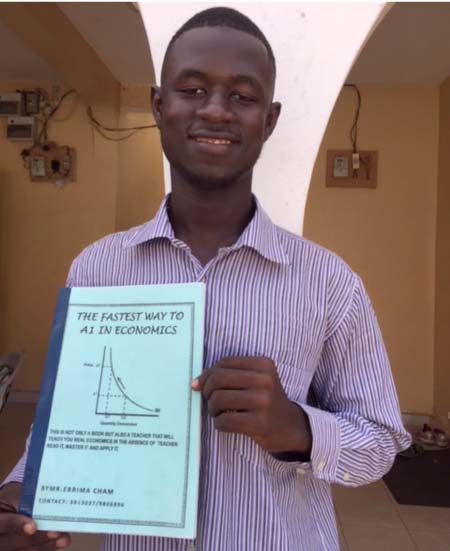 Ebrima Cham, a first-year student at the University of The Gambia, has recently written a book entitled 'The Fastest way to A1 in Economics'.

The former Nusrat Senior Secondary School student said the book is a practical guide to help students to master economics even without an economics teacher.
He said it took him three years to complete the book but by dint of hard work, determination and dedication, he is able to launch the book.
"The book is prepared purposely to help students easily understand and enjoy the study of economics at secondary school and to have A1 in the subject at the West African Senior School Certificate Examination," Cham said.
"The book is also a valuable asset for teachers in setting examination or test questions. It also has some technical questions for students to try in order to make themselves au fait with the way WASSCE questions are set."
The UTG student said his book will make life simple for senior secondary school students as it will make it easier for them to get A1 in economics.
The 20-year whose education, from lower level to university, is sponsored by SOS-Gambia Foundation in Denmark dedicated the book to his sponsors.
"The book is principally dedicated to Susanne Peteisen, Binthe and Hening for sponsoring my education from lower level to university, as well as supporting the launching of this book," he said. "It is also dedicated to all the students aiming to have A1 in economics."
Mr Cham further hailed Susanne saying without her intervention and financial support of his education, he would not be able to write a book.
"I am very proud of her and I will never let her down; I would do everything possible to increase by grade in examination at the university," he said.
He explained that Susanne's intervention in supporting his education has positively impacted his life.
"I am from a very poor background. My parents used to find it very difficult to pay my school fees but with the intervention of Susanne and her foundation, the burden of my education has been removed from my parents," he said.
Read Other Articles In Article (Archive)