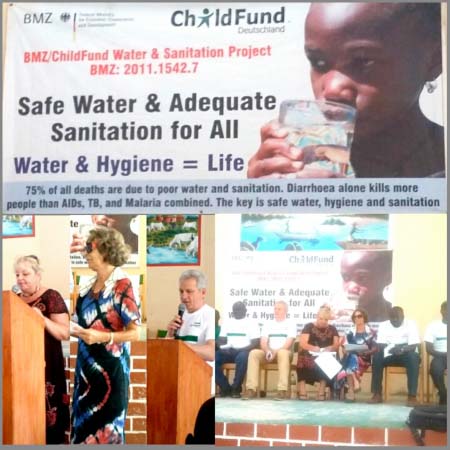 ChildFund in collaboration with the German Federal Ministry for Economic Cooperation and Development (BMZ) on Saturday held the closing ceremony of a D14 million water and sanitation project at Mayork Senior Secondary School in Foni Bondali.

In November 2014, ChildFund Deutschland e.V received a grant from BMZ to co-finance a two-year project titled 'Building capacity for sustainable access to potable water and hygiene standards in 17 remote villages of West Coast Region of The Gambia'.
According to the project officials, the project constructed four new wells, erected pipe extensions with stand pipes in six villages, installed one new solar pump system for a borehole in one village, and supplied 18 water filters to villages and public institutions.
The project also conducted series of capacity building activities on pump operation and management, water hygiene and sanitation in the intervention villages and schools.
Ello Jallow, permanent secretary, Ministry of Environment, said the ministry enjoys "good working relations" with ChildFund in many areas, especially in the area of information sharing and quality control.
He commended the German Federal Ministry of Economic Cooperation for complementing the efforts of The Gambia government in providing safe drinking water, sanitary facilities and hygiene promotion messages to the rural population.
Dr Werner Kuepper, programme director of ChildFund Deutschland e.V, expressed delight over another "successfully implemented major programme" on water and sanitation in the western region of The Gambia.
Anita Martin, representative of the German Embassy to The Gambia, said water is a priority area of the German development cooperation.
She said Germany aims to provide 30 million people in sub-Saharan Africa with access to improved water and sanitation services.
"The right to water is a human right and Germany therefore helps its partner countries to implement this right," she said.
Mrs Martin said since 2011, when they started to implement the first project on water in The Gambia, they have provided better access to drinking water for 30,000 Gambians.
"The second project which is just completed will provide sustainable access to potable water and hygiene standards for another additional 12,000 habitants in 17 villages," she said.
Martin hailed their partner, ChildFund, for the transparency and commitment they showed towards the swift successful completion of the project.
The project manager, Ellen Schiller, said the completion of the project marks the availability of clean drinking water directly to 13 communities in West Coast Region thereby reducing water borne diseases like diarrhoea.
Through the project, five schools and two health centre are provided with water and hard to reach small villages are also provided water filters, 'paul'.
She said natives of the beneficiary villages were trained on the proper maintenance of the facilities.
Pa Landing Colley, a representative of the beneficiaries, said the facilities would be put into good use.
He commended the project management, ChildFund Gambia and Deutschland, and the Germany government for making the project a success.
Read Other Articles In Article (Archive)