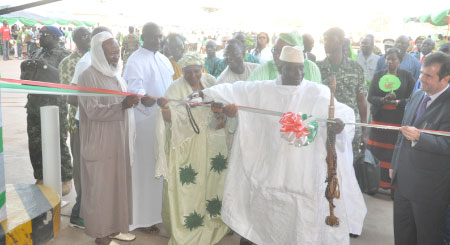 A US$17 Flour Mill Company called Gambia Milling Corporation was on Monday inaugurated by President Yahya Jammeh in Banjul at the end of his 2013 Dialogue with the People Tour.
The Mill, according to officials, has the capacity to produce up to 93,000 metric tonnes of flour and is expected to create job opportunities as well as enhance the national economy, especially in increasing foreign exchange, transfer of technology, training and capacity building, balance of trade and support to the gateway strategy. 
Speaking at the inauguration ceremony, President Jammeh underscored the importance of private sector investment, while assuring the investors of government's continued support in ensuring that the business and investment climate remains vibrant and more competitive.
"We are already renowned for being a bastion of peace and security, which is essential for any meaningful economic growth and development. This national milieu is what investors require to have a prosperous and secure investment," he stated.
According to the Gambian leader, the strategic position of The Gambia as the gateway to West Africa provides a strong platform to explore the huge market potential within the West African sub-region and beyond.
While describing the inauguration of the company as an encouragement that shows that the private sector is responding to the call for partnership in socio-economic development, President Jammeh noted that in order to support investments such as this, his government will continue to invest in infrastructure, peace and security as key pillars to entice, encourage and support investors and investment projects that meet the development aspirations of The Gambia.
He expressed his government's willingness to always go the extra mile to support investments that are in the interest of the Gambian people and are in line with our national development agenda.
President Jammeh further stated that government has always reached out to the private sector and will continue to do so, but stressed that the government will not tolerate those whose participation is guided by greed and unbridled personal interest as opposed to win-win outcomes for all stakeholders.
"Our commitment to public private partnership is evidenced by various engagements and platforms including the recent High Level Economic Committee comprising of key ministers and business leaders tasked to look at critical issues related to improving business environment for the private sector to be the real engine of growth of this country," he noted.
For his part, Kebba Touray, minister of Trade, Integration and Employment, said the Gambia Milling Corporation project was granted a special investment status by the government through his ministry.
According to him, the evaluation results done by GIEPA indicated that the project has surpassed all the minimum criteria for qualification to special investment status.
While assuring that his Ministry will continue to support ventures such as this, as private investment is one of the secure ways to generate wealth and eradicate poverty, Trade Minister Touray called on the private sector to diversify more towards value addition and manufacturing.
Also speaking earlier, Mohammed Bashy gave a detailed overview of the project, which he said, is industrial and has also got agricultural investment opportunities. 
He assured that the company will from now on produce excellent quality flour in The Gambia.
"It has also got high potential to attract foreign exchange by way of export to neighbouring countries, employment opportunities for over a hundred Gambians in various departments of the mill. It will also include an animal feed mill to produce sufficient quantities of feed for cattle and poultry for Gambia and the sub-region," he said, adding that this will also encourage investment in cattle and poultry farms leading to food self-sufficiency.
Meanwhile, earlier on Sunday, President Jammeh also visited a US$3.3M Bakoteh Fish Market. The project is a component of a US$22.35M package for the artisanal fisheries development project in The Gambia.
Read Other Articles In Article (Archive)