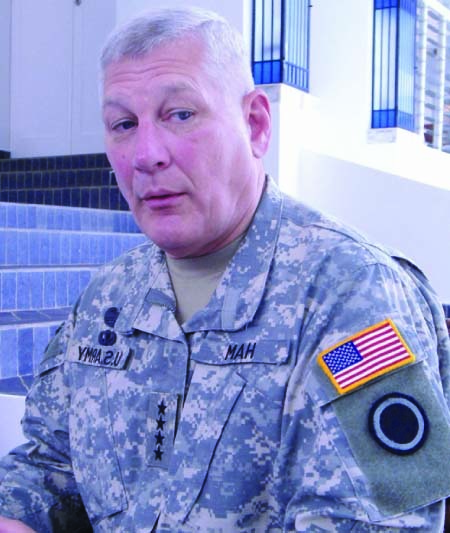 "United States has been quite clear to say its intended outcome in Libya and, that is, we would like to see a Libyan government which is selected by the Libyan people in a free and fair process, and to seek a free and secure Libya in everyone's interest," US Army General and Commander of US African Command based in Germany has said.
General Carter F. Ham, who was in Banjul for the just-concluded African Endeavour Test Exercise 2011, told local journalists at a press conference at the Coco Ocean Hotel in Bijilo that the US government made a decision that the Transitional National Council best represents the majority of people in Libya.
According to General Ham, the operations in Libya are all conducted by the North Atlantic Treaty Organization (NATO), which started under a US-led coalition, but ended under NATO command control.
"The mission is outlined in the UN Security Council Resolution 1973, which calls for principal protection of citizens in Libya," he added.
He said the US Africa Command operates under two main principles. It stands for a safe, stable and secure Africa, which is in the best interest of the USA, and to seek ways the US can contribute to the safety and security of Africa.
"The second underlying principle is that it is Africans themselves who are best able to address Africa's security matters, and what we seek to do as US Africa Command is to find ways in which we can help Africans in the way they want to be helped. That is the principal purpose of this organization," he told journalists.
General Ham also told journalists that in the early days when the Command was first discussed in 2006/7, there was some discussion that the US Africom headquarters be in Africa, but that proved to be very costly, and there were other reasons that made it not feasible.
"So we expect to stay in Stuttgart," he added
"The good news is that in and across Africa, the national interests of one country coincide with those of their neighbors and that leads to a regional level of cooperation," General Ham said, adding that this gives some hope that though difficult, Africans will find some way to work through these periods, and find ways to collaborate more effectively in the future.
"We have had discussions with the Gambian authorities that the next area that will require focus, assistance and cooperation is the maritime domain; to help build maritime security forces.
"Developing a sense of mutual trust and confidence is an essential component to regional cooperation and integration," he noted.
"We are pretty widely engaged across Africa, and the US presence is pretty small in any other particular exercise and, again, we are not seeking to have the leading role. We want to allow the host nations to have a leading role," he added.
Read Other Articles In Article (Archive)