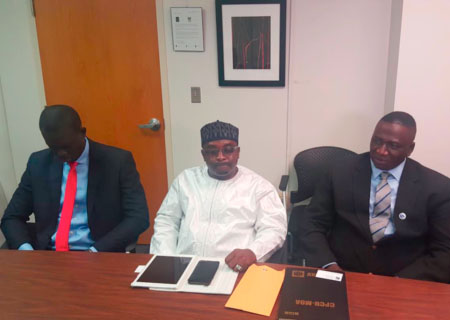 The proposal to establish the sister city programme was submitted by Alder (Councilor) Samba Baldeh of the Madison Common Council, an American citizen of Gambian descent.
After several speeches in support of the proposal from members of the KMC delegation and some Gambians in the audience, it was unanimously endorsed by acclamation, thus putting in place a process to twin Madison with KMC.
Introducing the proposal to the Madison Common Council, Mr. Baldeh cited the several benefits that the KMC and Gambians stand to gain from twinning of the two municipalities. He gave as an example the Madison sewage disposal system, which he said could serve as a good example to KMC, which is currently faced with waste disposal problems.
Referring to the proposal, he said it establishes that Madison and Kanifing, on the basis of friendly cooperation, equality and mutual benefit, will work together to promote and broaden the cultural, academic and economic relations between the two cities.
"The agreement reaffirms a commitment to work together to carry out exchanges in such fields as science, medicine, commerce, art and culture, public health, sports, tourism and others. This relationship, like those with other sister cities, helps establish relationships, and contributes toward the development of deeper bonds of mutual understanding between the two cities," Baldeh said.
In his intervention in support of the proposal, the Chief Executive Officer of KMC, Pa Kalifa Sanyang, expressed happiness with the proposal and he gave an undertaking that the KMC would do everything within their means to make it a success.
The agreement stipulates that the cities of Kanifing and Madison will maintain links of friendship and cooperation through such means and resources as are available, and particularly through:
•€€€€€ Exchange of delegations representing such fields as administration, agriculture, business, education, health care and wellness, science and veterinary medicine;
•€€€€€ Exchanges of art, cultural exhibits and activities;
•€€€€€ Exchanges of youth groups;
•€€€€€ Exchange of information about the life of our communities, our people and our governments, with the aim of sharing experiences and knowledge in the development of local economies, education, public health and welfare, culture, art, and environmental protection, historical preservation, biotechnology, and community and consumer based services.
•€€€€€ Assistance and promotion of community organizations such as friendship societies, educational and workplace associations, and any organization which promotes friendship, cooperation, and respect, and
•€€€€€ Promotion of mutual business development and trade opportunities between Madison and Kanifing.
The agreement went on to indicate that the elected representatives of the cities of Kanifing and Madison will each designate a collaboration committee that will promote these goals, which in turn will determine each year specific exchange projects and any other manner of cooperation.
The KMC delegation was led by the permanent secretary at the Ministry of Lands and Regional Governments, Bully Dibba, and included the KMC Chief Executive OfficerPa Kalifa Sanyang and Pierre Minteh from the Gambia's Embassy in Washington DC.
Read Other Articles In Article (Archive)