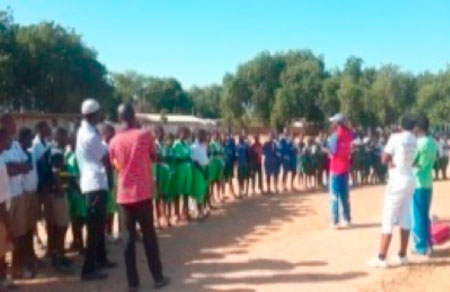 The Gambia Cricket Association recently embarked on a three-day cricket coaching clinics for students as well as a two-day Introductory Umpiring and Scoring Course for teachers in schools in Central River Region (Janjanbureh), Lower River Region (Soma) and Upper River Region (Basse).
The program held from 11 to 13 May 2016, is part of GCA's initiative in expanding the game to the junior involvement based in the Regions, which is a strong priority of the International Cricket Council (ICC) and Africa Cricket Association.
The programme started with cricket coaching clinic for students in schools in these regions and it registered 299 students in LRR, 244 students in URR and 270 students in CRR.
In total 813 students in the three regions were introduced to the basic fundamental stages of the game, which are:
BATTING:
The Grips.The stance.The Back Lift and The Swing
BOWLING:
.The Grip.The Run Up.The Delivery and Follow through
CATCHING:
Close Catching.High Catch.Slip Catches
FIELDING:
.The Long Barrier.Retrieving the Ball.Throwing to the Wicket
At the end of the session, a demonstrative match was played between the students who found the game interesting, and would not want to stop playing the game during the rest of their period, which was really interesting, according to GCA.
The area they find most interesting is batting; all of them wanted to bat and hit the ball, added the GCA.
"Also in all the three Regions we had two-day Introductory Umpiring and Scoring Course organised for the teachers," a GCA press release stated.
"The essence of this Umpiring and Scorers Course is to educate these Physical Educator Instructors about Umpiring and Scoring, so they could be officiating in our School's League," the release added.
The two-day course has invited 10 Physical Educators from different schools in each of these regions partake in the courses of Basic Umpiring, Laws and Signals, Ways of Dismissal and Scoring.
The coaches also took the opportunity during their stay in the regions to visit the Governor and Alkalo in the Regions and had a lengthy discussion with them on ways to develop and sponsor the school league in their region, the release concluded.
Read Other Articles In Article (Archive)