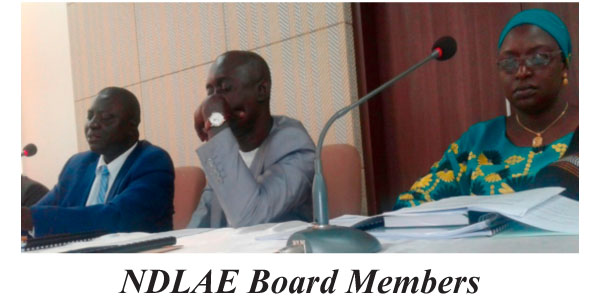 The joint session of the Public Accounts and Public Enterprises Committees (PAC/PEC) of the National Assembly yesterday adopted the annual activity report and audited financial statement of the National Drug Law Enforcement Agency (NDLAE).
In his contribution, the National Assembly Member for Kiang Central, Hon. Buba S. Fadera, said looking at the number of staff employed by NDLEA, it was too small for the job being taken up by NDLEA, and appealed to them to recruit more security personnel for the job.
Hon. Pa Lamin Jatta, National Assembly Member for Kombo North, thanked the board and management of NDLEA for their report, saying to combat drug abuse and trafficking is not an easy task.
He said their efforts are commendable, as even with all the efforts put in by them, drug abuse and trafficking is increasing.
He therefore appealed to them to remain steadfast in making The Gambia a drug-free society.
Hon. Ebrima Solo Jammeh thanked NDLEA for the fight against illicit drugs and for transforming The Gambia to become a drug-free country.
"Dealing with drug abusers is very risky and the security personnel should be heavily armed to be able to fight these radicals out there," Hon Ebrima Solo Jammeh said.
Responding to comments and questions to the NDLEA, Director General Bakary Gassama said NDLEA had striven very hard in cooperation with other security personnel to dismantle all criminal gangs that were established within the KMC.
He said looking over the years the crime rate had reduced drastically.
"We work closely with other people like the police force to ensure that there is peace and stability in the country."
On the issue of rehabilitation centres, he said, it was their intention to see that a rehabilitation centre is in existence, but due to financial constraints they are unable to build their own rehabilitation centre.
Nonetheless, efforts are on the way with partners andgovernment so that they have their own rehabilitation centre, because it would help them to sensitise people to distance themselves from drug abuse, especially addicts after serving their jail term to bring them to the rehab centres to ensure that they are well-treated before going back to society.
Read Other Articles In Article (Archive)