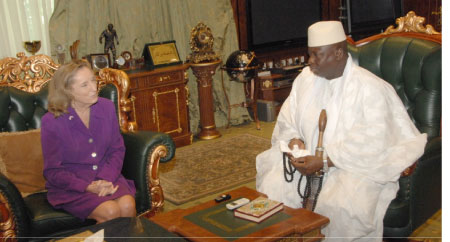 United States Ambassador to The Gambia Pamela Ann White discussed with President Yahya Jammeh at State House the political crises in Guinea Bissau and Mali.
Speaking to the press after her meeting with the Gambian leader, Ambassador White said President Jammeh is well-informed about international and domestic affairs.
She disclosed that they talked about the pivotal role President Jammeh is playing in Guinea Bissau and Mali, in trying to resolve the crises.
"President Jammeh has been strong, and he played a critical role in moving forward concretely what can be done in these countries, and the US Government and her people fully appreciated this," said ambassador White.
She further disclosed that the US will do some work in the country in the area of food security, and discussed with the Gambian leader what they hope to do.
"We hope to start with US $50,000 through Peace Corps, which they can give to the most vulnerable villagers," she said.
That money, ambassador White went on, could help women gardeners to make sure that more people have some nutritious food to eat.
Read Other Articles In Article (Archive)