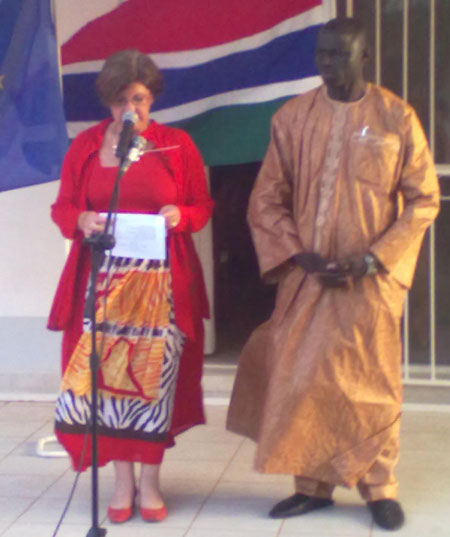 The European Commission Delegation to The Gambia on May 9 celebrated Europe Day with a ceremony held at the commission's office in Fajara.
Europe Day is an annual celebration of peace and unity in Europe, and commemorates the Schuman Declaration of 1950, a proposal by the then French foreign minister Robert Schuman to create a new form of organization for the states of Europe.
This declaration was the genesis for the creation of the European Union.
The Schuman Declaration came at the end of one of the most violent and destructive periods in European history.
European states had fought bitterly against each other in two world wars in the first half of the century.
By 1950, European countries were struggling to rebuild in a context of political and economic fragmentation.
However, the Schuman Declaration was a positive step in binding these countries together in a spirit of cooperation.
The event in Fajara was attended by Madame Agnes Guillaud, the EU's Charge d'Affaires to The Gambia, who gave a speech in which she noted how far European integration has come since 1950.
"Today, the EU brings together over 500 million people from 27 countries, speaking 23 languages." 
According to Madame Guillaud, the EU now aspires to build a Europe which respects the freedom and identity of all those who live on the continent, and which promotes peace, democracy and respect for human rights at home and abroad.
"These values form the basis of our long-standing cooperation with The Gambia in accordance with the Cotonou Agreement, which defines these values as 'essential elements' of our cooperation in the political, development and economic fields."
Speaking on behalf of the Gambian government, the minister of Finance and Economic Affairs, Abdou Kolley, noted that the day is not only important to the EU but also to the entire world, and the ACP (African, Caribbean and Pacific Group of States) in particular.
According to Mr Kolley, the EU remains the leading aid provider to The Gambia with a total of €65.4m in grant money allocated for the period 2008-2009.
The EU is involved in many development projects in the country, in areas such as infrastructure and governance, he added.
Read Other Articles In Article (Archive)