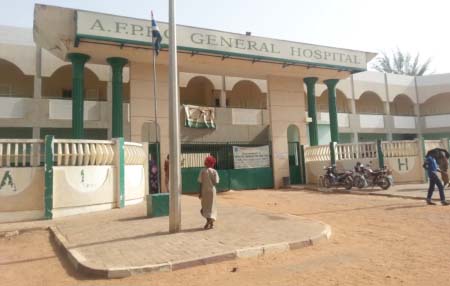 The United Nation's Population Fund (UNFPA) in partnership with the Network of Journalists on Reproductive Health, Population and Development (NJORPAD) on Monday started a field visit at Farafenni and satellite villages in North Bank Region.
The visit is geared towards familiarising the media on UNFPA project intervention sites, discussing with project staff and beneficiaries, and interviewing prominent local personalities.
The objective of the visit is to give media personnel firsthand information to generate human interest stories related to the work of the UNFPA in The Gambia.
It is hoped that such trip will also to create a better working relationship between UNFPA and NJORPAD.
The media field visit is based on the theme 'Enhancing partnership with media to promote visibility – a pathway for showcasing grassroots stories and amplifying the voice of the marginalised'. The first place visited was the AFPRC General Hospital in Farafenni where the team paid a courtesy call on chief executive officer of the hospital, Mamady Cham.
NJORPAD members also paid a courtesy visit on the office of the Regional Health Team (RHT) in Farafenni on the same day to brief them about the field visit.
Illiasa Health Centre, Fandema Support Group and the Farafenni Youth Centre were also visited.
Alieu Jammeh, RHCS coordinator at UNFPA, and Lamin Camara, National Programme Associate (NPA) at UNFPA, briefed both the CEO of AFPRC General Hospital and the RHT officials about NJORPAD field visit in the region.
CEO Mamady Cham expressed gratitude for the visit made by the journalists to his office.  He took time to explain some of the key assistance made by UNFPA like providing his hospital with scanning machine which contributed to the reduction of maternal death to 68 per cent in one year.
Cham said UNFPA is the main funding agent of SRH services in The Gambia.
Due to the support of the agency, he said, the number of caesarian section conducted at the hospital has increased from 100 to 200, obstetric referrals have reduced, and the hospital theatre is now 24hrs operational.
"Before 2012, we used to register 24 maternal deaths but now it has drastically reduced," he said.
Farafenni hospital CEO said 98% of their deliveries are live birth while calling on pregnant women to come early to hospital, not to wait until there are complications during labour to rush to hospital.
Nyima Sonko, officer-in-charge of Illiasa Health Centre, said UNFPA helped them with materials in RCH and family planning commodities.
She noted that some women prefer to be attended to by male nurses because "they said men are more sympathetic" towards them.
Madam Sonko said women normally come for reproductive services at night because they feel reluctant and prefer seeing nurses behind closed doors.
She said some women even hide their family planning cards at the hospital and when they are coming for family planning services, they pretend to be taking their children to the hospital.  Other women even hide their cards inside antenatal card.
Read Other Articles In Article (Archive)