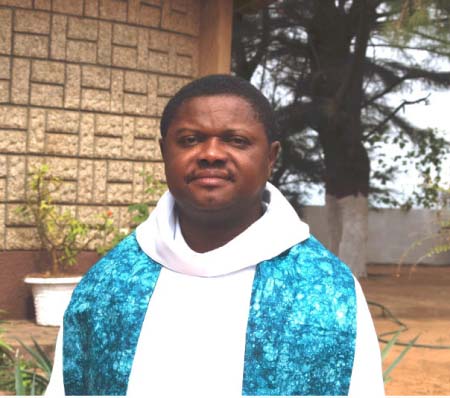 FATHER Edu Gomez celebrated his thirtieth anniversary as priest on Sunday 17th April, 2016, at the Resurrection Parish in Brikama.  The ceremony which was well attended by hundreds of worshippers was a joyous moment.
He concelebrated the mass together with Fathers David JimohJarju, James Mendy and Roger Sambou from Kaolack Diocese, Senegal.
In his homily Father Edu gave a detailed explanation of what the priesthood means in the Catholic Church. Basically he said the priesthood is centered on service to God and humanity.  A priest is called to serve God through the sacraments of the church and to be readily available to God's people not discriminating between poor and rich.  He is also called to serve God through the preaching of his word always.
Fr Edward Gomez - Teaching John Paul
Fr Edward Gomez, widely known as 'Father Edu', was born in April 1959 in Banjul. He attended St John's Primary School, Banjul, followed by the Methodist Primary School, Janjangbureh, and Njau Primary, Upper Saloum.
After St Augustine's High School - where he excelled in games - he began training for the priesthood at St Paul's seminary in Liberia, and was ordained priest in Banjul on 12th April 1986.
In October 1995 he began a master's degree course at the Catholic University of West Africa at Port Harcourt, Nigeria. In July 1997 he became Director of Studies at  St Peter's Junior Seminary, Lamin.
Fr Gomez has been Administrator at the Cathedral, lecturer at Gambia College and the university of the Gambia. He has been a regular broadcaster on radio and television. In February 1992, during the visit of St John Paul II, Fr Gomez was Master of Ceremonies at the Mass in the stadium at Bakau, having earlier visited Rome to meet the Pope and teach him a few phrases in Wolof.
He was a committee member in the Accelerated Results Implementation Project, which led the fight against HIV/Aids.
In May 2009 Fr Gomez was made a Member of the Order of the Republic of The Gambia (MRG).
Father is happy as a priest of the Catholic Church and wants to encourage every young people to give their lives to Christ in serving him in the church. Every young person has a vision which should be directly towards the will of God and God's will should be part of every young person future. To serve God as a priest is a Christian calling and Father wants to encourage every young person to serve God in his church.
Read Other Articles In Article (Archive)