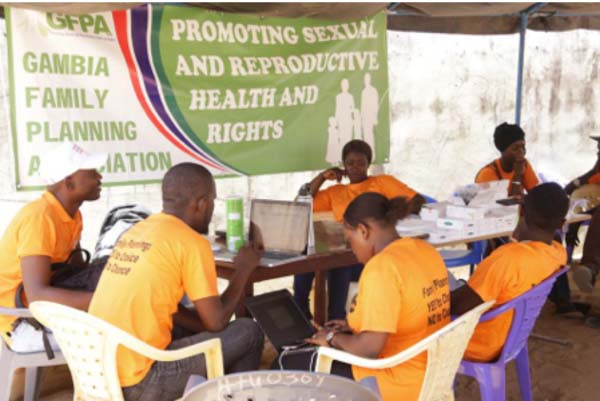 The United Nation Population Fund (UNFPA) and partners launched a Family Planning Campaign in URR and LRR on Saturday with the theme "Yes to Choice, No to Chance."

It aimed to create demand for services and raise awareness on family planning, cervical cancer screening and HIV counseling and testing.
The use of a multi-disease approach as an entry point to family planning helps create a greater understanding of family planning services and commodities and generates demand for uptake of family planning services in communities. It also boosts registrations by new family planning acceptors in Lower River and Upper River Regions and dispels myths around family planning and sexually transmitted infections.
Speaking at the campaign, Alhagie K. Kolley, National Program Officer responsible for Reproductive Health and HIV/AIDS at UNFPA, said the campaign was about creating awareness and making services accessible.
They started it last November in the North Bank Region, he said, adding this time around they chose URR to do the campaign for a few days and then proceed to LRR.
He said they are working with the Ministry of Health and Social Welfare, UNAIDS, National Youth Council, Gambia Family Planning Association, Reproductive and Child Health Unit, SOS Mothers' Clinic, Nova Scotia Gambia Association, National Population Commission Secretariat, Network of Journalists on Reproductive Health, Population and Development, Think Young Women, Safe Hands for Girls, The Girls' Agenda, He4She Gambia, and Rojalnu.
He said the campaign was targeting young people to see how best they could attract the attention of young people by organising a football tournament between the young people to bring them together.
Before the match they will make statements on Family Planning and their jerseys will also contain messages, he added.
He continued saying, that the young people are also very important. Looking at The Gambia's population it is a youthful population and by targeting young they hope to achieve their aim.
He said initially they wanted to do the campaign nationwide but they decided to do it per region, adding that last November they wanted to go to Basse but it coincided with the presidential election and it was cancelled.
He said when you get to the health facilities you will see men accompanying their wives or taking their children to the hospitals and they want to see more of that.
He said there was a time when if you talked about family planning most people would say that it is a women's thing, adding that the role of men is pivotal. If men encourage their wives' to go to the clinic for Family Planning Services.
"Some women practice family planning without the consent of their husbands which is not ideal; because we believe that such decisions should be taken jointly," he said.
"It is good for one to do birth spacing to take care of the child and in the process the mother can also gather strength and improve on her health status," he stated.
Also speaking at the campaign, Gassamanding Touray from the Gambia Family Planning Services, said they have all the family planning commodities such as the Implanon, Jadelle, emergency contraceptives, condoms and a lot more which are all free for those who go for the services.
She said they counsel you on the commodities available so that people can make a choice for themselves.
They are there to make demands for the commodities and services so that if they leave, people will continue going for the services at The Gambia Family Planning Basse branch where they will be able to access the services and commodities.
They are also helping people to know their status by conducting HIV counseling and testing since, "there are still some people who are in denial as to its existence," she said.
She said there is also cervical cancer screening for women and is also for free.
Read Other Articles In Article (Archive)