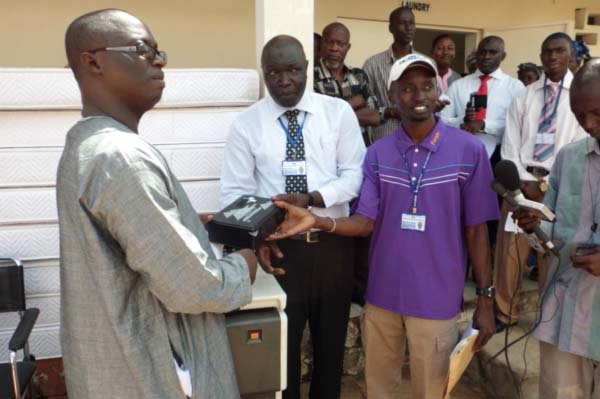 (Friday, 30 August, 2013, Issue)
The Ministry of Health and Social Welfare recently received a boost from its main development partners the United Nations Fund for Population Affairs (UNFPA) and Gambians based in Germany.
The donation from the UNFPA included a double cabin Toyota pickup vehicle earmarked for use in the LRR to supervise the monitoring and evaluation of maternal and child health service provision, 7 laptops, projectors and computers with accessories meant for the nursing schools in Banjul, Bansang and Mansakonko, contraceptives, and other maternal life-saving drugs.
The UNFPA Assistant Country Representative Momodou Mboge handed over the donation valued at D10 million to Omar Sey, the Health and Social Welfare Minister, at a brief ceremony at the Quadrangle in Banjul.
According to Mr Mboge, the intervention seeks to improve maternal health in the country.
He said the contraceptives, which include female condoms, are meant to reduce sexually transmitted infections and to promote family planning.
He hoped the items would be put to good use. In receiving the gifts, Minister Omar Sey lauded the gesture describing it as very timely, noting that the provision of free maternal and child health services is very costly.
The donation will greatly complement government`s efforts in this area, he added.
The vehicle, he noted, will ease the challenge of accessing services for mothers and children in hard to reach areas in the LRR.
The PS at the Ministry of Health and Social Welfare, Matilda Bouy, said the items would be put into good use.
In a similar development, Minister Omar Sey also received a handsome donation from an association of Gambians based in Germany dubbed Helping The Gambia, Needy Children and their German supporters.
The CEO of the Serrekunda General Hospital (SGH), Baba Njie, handed over the items to him at a brief ceremony at the hospital grounds in Kanifing.
The hospital`s PRO Alieu Badgie, who also doubles as the donors contact person in The Gambia, facilitated the donation.
Minister Sey described the move as patriotic and a step in the right direction. He also commended the donors for paying heed to the Gambian leader`s clarion call for all to contribute their quota to nation building.
He said that most of the items would be distributed to health facilities across the country.
The CEO of the Serrekunda General Hospital, Baba Njie, and the hospital`s PRO Alieu Badgie, all spoke at the ceremony.
Read Other Articles In Article (Archive)