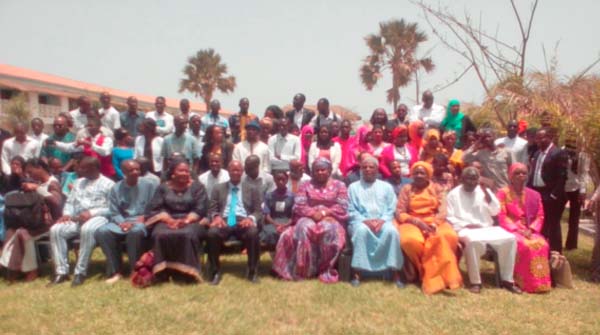 The United Nations Educational Scientific and Cultural Organization UNESCO Regional Office in Dakar, in collaboration with The Gambia National Commission for UNESCO, Article 19 and CODESRIA, yesterday opened a two-day International forum for Africa's youth to learn lessons.

The youth power that put an end to The Gambia's political Impasse, which restored democracy in the country, was top of the agenda.
The theme of the international forum is "Youth Peace Building and Regional Solidarity: Lessons from Africa" built on the concept that since wars begin in the minds of men, it is the minds of men that the defence of peace must be constructed.
The overall goal of the initiative is to strengthen capacity within the youth to lead actions at both the community and national levels.
The conference also sought to provide a platform for sharing experience, lessons learned and reflections on the role of the youth in the democratic transition in Africa.
The participants were drawn from across the sub-region to discuss the issues affecting them as well as to learn from the youth power that restored democracy in The Gambia in ending the political impasse.
In her remarks on the occasion, Basic and Secondary Education Minister Claudiana Cole said: "It is an honour for me to address you at this conference on the theme: youth, peacebuilding and regional solidarity.
"First and foremost, allow me to register my sincere thanks and appreciation to the conveners of this important conference for bringing together young people from the African continent and providing a platform for them to share their varied experiences and reflect on their role in the democratic transition and positive social transformation in Africa."
She said the conference was particularly timely and relevant considering the recent developments in The Gambia and in many other African countries.
She said: "Our country has just emerged from 22 years of repressive rule that was characterized by indescribable restrictions and violations of basic human rights.
"The peace and tranquility of our nation and even that of some neighbouring countries were seriously undermined. War, social unrest, ethnic, tribal and religious intolerance loomed large on our country's horizon.
"This situation is not peculiar to The Gambia, as many other African countries are still facing complex political and transitional challenges that require special attention."
"While we are pleased and grateful to the youth for their remarkable capacity to contribute to peace building and prevent conflicts; there is more work to be done to galvanize their participation and engagement in the process of ensuring sustainable peace in Africa.
"We must ensure that the youth play a fundamental role in decision-making processes and other sources of empowerment. Youths need specific knowledge, skills, and attitudes to build a lasting peace."
Madam Cole further stated that "the new Government of The Gambia is committed to providing the necessary space and guidance to its youthful population in all spheres of national development.
"We recognize the need to empower a new generation with new intercultural skills; a deeper media and information-technology-literacy to support the positive civic engagement of young people and youth initiatives.
"We must also support a cohesive society to advance peace on the basis of respect, human rights and dialogue."
Ebrima Ceesay, from African Artist Peace Initiative, said that on a continent where the majority of the young people are under the age of 35, young people are excluded from political leadership and decision making processes.
He said young people are marginalized in national politics, adding that they have an older generation in possession of authority seeking to address issues affecting young people without consulting them.
He added that these efforts are bound to fail. He said five years ago the African Union convened a summit in Malabo on the theme of accelerating youth empowerment for sustainable development.
He said, "One of the resolutions of that meeting was the commitment by AU heads of states to reduce youth unemployment by 2% every year."
He said not only have they failed to reduce youth unemployment by 2% every year but in fact youth unemployment has been on the increase every year in double-digit percentages.
Maimuna Sidibeh of the UNESCO Gambia Office said, "It is with singular honour and profound privilege that I welcome our international delegates and guests to this country known as the smiling coast of Africa."
She said the event marks yet another milestone in the Gambian calendar to deliberate on issues affecting African Youth.
She also said The Gambia recently witnessed historic changes and "not by accident".
She added that UNESCO decided to invite the participants in the country and that youth peace building and regional solidarity has never been more relevant and critical.
Other speakers at the event were Sports PS Nancy Nyang, Dr Mariama Touray Jagne and Madam Fatou Jagne-Senghore of Article 19 among others.
Among the dignitaries present was Demba Ali Jawo, Minister of Information, and Hon. Halifa Sallah, Vice Chancellor of UTG among others.
Read Other Articles In Article (Archive)