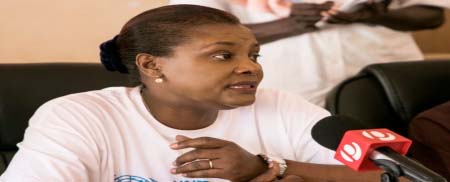 United Nations resident coordinator in The Gambia says they are strongly committed in supporting Gambia's reform processes, such as the Security Sector Reform (SSR), Truth Reconciliation Reparation Commission (TRRC) and National Human Rights Commission.

Saraphine Wakana was speaking at the Gambia Songhai Center in North Bank Region village of Chamen last Wednesday, as the UN family in The Gambia and the Youth Empowerment Project (YEP) commemorated UN Day on October 23 and 24.
This year's celebration was held in North Bank and Lower River Regions to decentralize their work as well as to have community engagements with communities benefiting from UN projects across the country.
The two celebrations availed the UN family in The Gambia the opportunity to have lunch with school children, visit feeder road rehabilitation programmes, plant fruit trees, donate blood, provide dignity kits to create access to menstrual hygiene information and products for adolescents as a pathway to achieving sexual and reproductive health, donate environmental sanitation materials to health facilities, cowpea harvesting as well as meetings with relevant stakeholders.
The theme of this year's UN Day celebration was: Achieving sustainable peace through dialogue: Our roles and responsibilities.
Madam Wakana pointed out that implementing Security Sector Reform is not like planting trees, adding that it will take time because if one does without consulting and capturing all the issues around, he may miss the point.
According to her, the SSR is important to them, noting that they will remain committed to supporting The Gambia Government. She also said this year's theme was chosen considering not only the situation in The Gambia but also UN's mandate to support all countries in that situation.
"Some people would think dialogue is for politicians, but rather it should start from our families, so that when there is understanding within homes and communities it will spread across the country. Everyone has a role to play. It is not only the security sector, politicians or government but everyone."
She said The Gambia is under a transition period and UN had a lot to do to get to where it is today, highlighting that they need to remain committed in supporting The Gambia through its transitional process.
Aissata De, UNDP resident representative in The Gambia said The Gambia is at a very important cross road and it is important that they support the country's National Development Plan.
Saikou Kawsu Gassama, Permanent Secretary at the Officer of the President described the move by UN to celebrate the day with project beneficiaries as relevant and apt, noting that this will bring accountability.
Mr. Gassama also described providing adolescent students with dignity kits as critical for their wellbeing, attendance and performance in school.
Lower River Region deputy governor Kebba Darboe urged the UN Family in The Gambia to take advantage of the enabling environment created by government and take stock of their achievements and challenges to better serve humanity.
Read Other Articles In Article (Archive)