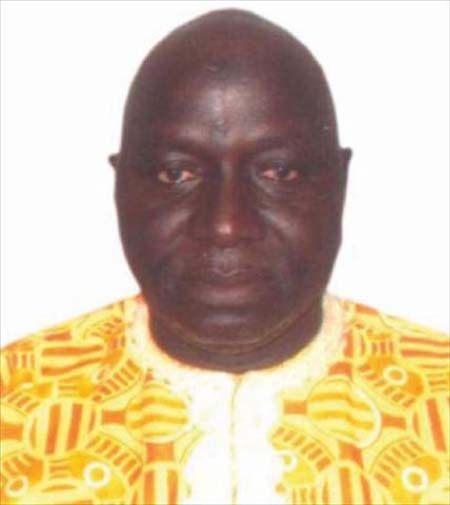 The death has been announced of Shyngle Nyassi, Propaganda Secretary of the opposition United Democratic Party (UDP), The Point has learnt.
Born in Bwiam in Foni Kansala, Mr. Nyassi, reportedly died of heart attack in the United States of America, where he has been on tour.
Survived by three wives and many children, Nyassi died late on Monday night.
Reacting to the sudden news, Ousainou Darboe, party leader and Secretary General of the United Democratic Party, told journalists at a press conference that on Monday night at around 11pm, he received a call from the US announcing to him the sudden and untimely death of Momodou Lamin Shyngle Nyassi.
According to him, "Shingle Nyassi's death is one of those events that will never be forgotten in the history of the country, as he was a political institution in his own right, a titan, and a giant".
''I will not speak of Nyassi in the past; I will speak of him in the present, because it is people who have not contributed to the well-being and who passed away are talked of in the past, but those who have contributed to the advancement of their nation, their society are always spoken of in the present, when they depart this world,'' Darboe stated.
In Darboe's view, "Shyngle Nyassi represents the face of the struggle against injustice; he was the face of the struggle against inequity; he was, in fact, the face of the struggle against tribalism.
''He was a man who suffered for this nation; he lived for this nation and died for this nation. It is not possible to say that Shyngle Nyassi's death will never be found in this country, but it will be heard to come by his type; he was honest, contented, humble, focused and devoted all his life to the politics of this country,'' the UDP leader added.
He told journalists that Nyassi's death "is a loss to the entire Gambia, because what he was pursuing was something of benefit for the people of The Gambia".
Darboe expressed on behalf of all Gambians at home and abroad, condolences to the family of the late Shyngle Nyassi.
He also expressed gratitude to "Gambians in the United States of America and in the United Kingdom, Gambians across the world, who came together within short hours to make sure that Shyngle is given the due honour that he deserves".
Read Other Articles In Article (Archive)