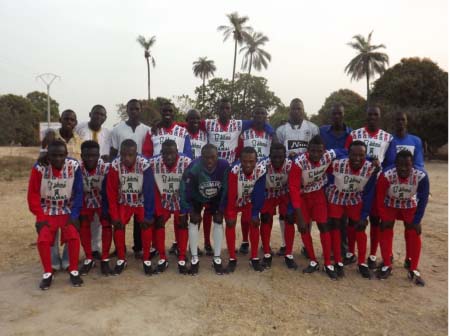 Gunjur Youth and Sports Development Association (GYSDA) has fined NAS FC D3,000 for their unsporting behaviour after their 2-1 defeatto Commit FC in the 2013-2014 Gunjur Nawettan quarterfinal played at the Gunjur Nyamina Football Field on 30 September 2013.
GYSDA also banned NAS FC fan Demba N.K. Darboe from all GYSDA activities for his taking a cutlass to the Gunjur Nyamina Football Field during NAS FC quarterfinal tie against Commit a fortnight ago.
GYSDA has also warned NAS FC official Lamin K. Touray Shyben and goalkeeper Omar Kebbeh Darboe for their actions after NAS FC's quarterfinal defeat to Commit FC.
NAS are urged as well to settle their fine on or before 15 October 2013 failure to do so shall lead to a two-year suspension of the club.
Meanwhile, GYSDA has awarded victory to Gamcel FC after their opponents Sibindinto FC were found guilty of using unqualified players during their quarterfinal game on Friday.
Sibindinto beat Gamcel FC 2-0 in the 2013-2014 Gunjur Knockout quarterfinal tie on Friday, but Gamcel FC launched an appeal against Sibindinto's goalkeeper Alagie Sowe, who is currently playing for Strikers FC in the Manjai Nawettan.
Gamcel FC are now through to the semi-final in the ongoing Gunjur Knockout competition, after Sibindinto's goalkeeper Alagie Sowe was found guilty of playing for Striker FC in Manjai nawettan.
In other accounts, Late Dembo beat league semi-finalists Commit 1-0 to seal the semi-final victory while debutant Alex Sanchaba FC defeated Solifo Investment FC 3-0 on penalties, after a 1-all draw in regulation time, to advance to the semi-final.
Read Other Articles In Article (Archive)