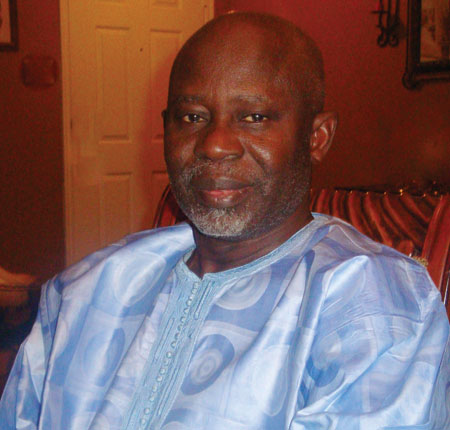 The leadership of the main opposition United Democratic Party, UDP, has vowed to regain what it said was the country's "lost glory under the 17 year rule of the APRC party," if given the mandate to run the affairs of this country, come 24th November.
Speaker upon speaker at meetings held in Bakoteh, Kerr Sering, Sanchaba Sulay Jobe and Sukuta on Sunday as part of its presidential campaign, assured Gambians that a UDP government will improve the social services in the country, which they said have seen a massive decline under the Jammeh administration.
Noting that change is inevitable, Lawyer Ousainou Darboe, leader of the UDP, told party supporters that another Gambia is possible through the participation of all Gambians in the electoral process and in governance; the promotion of human rights and observance of the rule of law; introduction and implementation of legislation that will disallow any individual to change the republic to a monarchy, as well as personalize state assets.
He told his party supporters that the UDP will enhance the political and economic empowerment of youths and women, and open educational and vocational centres to provide appropriate training for youths and women.
According to the UDP leader, commercialization of agriculture as a basis for industrialization will be among his top priorities if given the mandate, come 24th November.
"I will provide marketing cooperatives to cater for market gardeners and fisherfolk, as well as enhance river transportation and improvement of management of ferry services, including introduction of new and efficient ferries and the provision of regular, efficient, and adequate road transport facilities so that the whole country is accessible," Darboe told a cheering crowd of supporters.
He said his government will ensure that areas councils are participatory in their decision-making and operations, and that there is the provision of adequate drainage facilities in and around Banjul and the Kanifing Municipality.
Darboe further stated that his government will also embark on projects involving coastal protection to salvage the city of Banjul, and improve and enhance tourism to make it vibrant and sustainable.
"It is very clear that the APRC regime has woefully failed the will and aspirations of Gambian to a large extent, as feeding and housing is very difficult now in the country," he added.
"Between 60-65% of Gambians are living in abject poverty. Duties and taxes have sharply increased making the business environment hostile, but a UDP government will do all it can to tackle such issues," he opined.
Hon. Momodou Lamin Sanneh, minority leader and member for Kiang West, called on all Gambians to turn out in their numbers and vote against President Jammeh, saying the "APRC government have mismanaged public funds to the detriment of Gambians."
"We have seen massive violation of individual rights in this country, as people are treated like slaves with chains and shackles put on the legs of accused persons on trial, even without proving them guilty," he said, adding that a UDP government will address such practices, and put in good laws.
Noting that victory for the UDP is foreseeable, given the current state of affairs in the country, the minority leader said Gambians need change and change will be effected, come 24th November.
The APRC is operating on wrong programmes and policies, he said, adding that the agricultural sector has seen many projects, but virtually all have failed.
Lamin Dibba, Campaign Manager of the UDP, said the APRC government has frustrated the efforts of the business community, as President Jammeh is now "engaged in all forms of businesses in the country."
According to him, a UDP government will value human rights and sustainable development, adding that good laws will be introduced to safeguard all and sundry.
Yusupha Cham, 2006 UDP-sponsored candidate, and Muhammed Fatty, GMC youth brigade member, all spoke at the Sukuta meeting and assured the UDP leadership that youths will rally behind them.
Shyngle Nyassi, National Organizing Secretary of the UDP, called on the youths to vote President Jammeh out, describing Lawyer Darboe as the right candidate that can bring about change and development.
Ansuman Jatta, UDP Brikama Chairman, said Brikama will vote massively for the UDP.
Read Other Articles In Article (Archive)