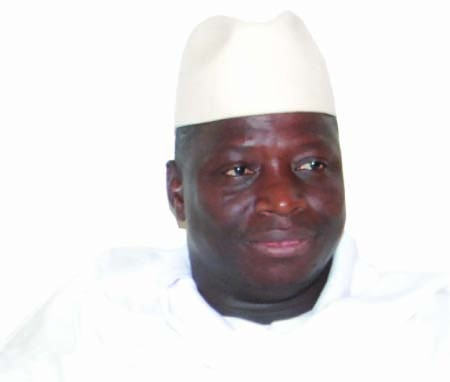 Incumbent President Yahya Jammeh began his campaign for re-election for a fourth term in office Sunday afternoon with an admonition to the people of the North Bank Region not to stop any of his rival opposition presidential aspirants and their supporters from holding rallies in their villages.
"You have no right to stop the opposition from holding their meetings here. If you are not supporting them, do not go to their meeting place and if they want to hold their meetings, let them do it, but don't stop them please" Jammeh told thousands of APRC supporters during meetings in Essau and Farafenni.
Seeking a fourth term in office, Jammeh who has already served 17 years at the helm of affairs of this country, had his speech focused on the need for Gambians to nurture the peace and stability in the country, especially as the country approaches the election slated for 24th November.
"I don't want violence and the politics of insults or harassment. If you want your country, its progress and way forward, don't incite unrest. What I want to tell you is that an election campaign and violence are far from each other, and are not the same, and so I will not tolerate violent manifestations. I don't want any chaos or quarreling, because when each and everyone if you goes to the polls, it is only you and God there and the ballot box. So it does not worth any violence," he said.
According to the Gambian leader, who earlier said he would not embark on any political campaign ahead of the polls, he is out to thank the Gambians for being behind him and the APRC party for the past 17 years as directed by his mother Aja Asombi Bojang.
"You have to desist from any campaign of violence, insults and trouble. Don't get involved in anything that will jeopardize the peace and stability of this country," he told cheering supporters, while urging people to report anyone found insulting or making trouble to the security forces.
"What I want is for you to go and cast your vote during election day, nothing else," he said, while thanking the people of the North Bank Region for their support to him and the APRC party since 1994.
While promising to further develop the North Bank Region, President Jammeh told his supporters that what he aims for himself is what he aims for The Gambia.
"I will thank the people of North Bank Region for their sense of support. I told you since the time I used to put on the military uniform that it is only God that is the president, as I am just your servant in development," he stated.
"Come election-day, we cannot force anybody to vote for APRC party, because during voting you will be alone in the booth to cash your vote for your choice of presidential candidate," he added.
Noting that the ruling APRC is not a party of violence or insults, but that of peace, Jammeh called on his supporters to desist from the politics of violence.
Lamin Kaba Bajo, minister of Fisheries, Water Resources and National Assembly Matters, who also doubles as the APRC Campaign Manager, said since Jammeh came to power in 1994, the North Bank Region was the first region where he constructed roads, schools, health centres among others.
"What we are seeing today in The Gambia is a sign that we will achieve what we are looking for, and what you the electorate should do is to go out in your large numbers and vote massively for the ruling APRC," Bajo told the APRC supporters.
According to Kaba Bajo, a native of the North Bank Region, this year's presidential election will be easy, because of what he said is the biometric system.
It will be easy because if you vote, it will be known and if you don't vote, it will also be known," Bajo stated.
Describing the ruling APRC party as a product that has already sold itself to Gambians by virtue of its achievements, Kaba Bajo called on the people of the North Bank Region to fulfill their promise to President Jammeh by voting massively for him.
While urging APRC party supporters not to be complacent that President Jammeh has already won even without them voting, the APRC Campaign Manager called on them to vote massively, as expected.
"It is a patriotic move to exercise the franchise, and a constitutional right to do," he said.
The Governor of the North Bank Region, Edward Seckan, assured President Jammeh that there exist no opposition supporters in his region, promising him that the people of his region will vote 100% for President Jammeh.
"The North Bank Region will retain their 100% vote for APRC because it is the only party that can move this country forward," he stated.
The Chief of Illiasa, Ebrima T. Jammeh, called on all Gambians to conduct themselves with honour and respect as we approach the presidential elections.
Other speakers at both the Essau and Farafenni meetings were Saikou Jallow APRC Regional Chairman NBR, Chief Fatma Jobe Jokadou,  Fatou Sonko, Mam Cherno Jallow NAM for Upper Niumi, Njogu Ceesay from Sabah Sanjal and Nyara Kanyi from Central Badibou.
Yankuba Touray Back
Meanwhile, former APRC National Mobiliser and Minister Yankuba Touray also addressed the meeting in Farafenni.
According to Yanks, as he is fondly called, the opposition in The Gambia cannot do what President Jammeh has done for this country for the past 17 years. He added that what Gambians need is President Jammeh, and nobody else.
"What is important for this country is peace without which there cannot be any meaningful development. Gambia is a peaceful country, and we should nurture this peace," he said.
While calling on Gambians to give President Jammeh 90% of their votes, come 24th November, Yankuba Touray said this can only happen if they work together.
He noted that telling lies against people just for the sake of getting positions within the APRC government will not help anybody.
"APRC is a party of progress and for me, nobody can drive me from the party because I'm not there for position," he said.
"For you the people of the North Bank Region, you have nothing to say against President Jammeh, because he has fulfilled all the promises he made to the people of the region, since he came to power in 1994," he said, citing the construction of roads, bridges, health centres and schools.
Among President Jammeh's entourage is also former Speaker of the National Assembly, Fatoumata Jahumpa Ceesay, Gambia's ambassador to Venezuela, Balla Garba Jahumpa and Mrs. Nyimansata Sanneh Bojang.
Read Other Articles In Article (Archive)