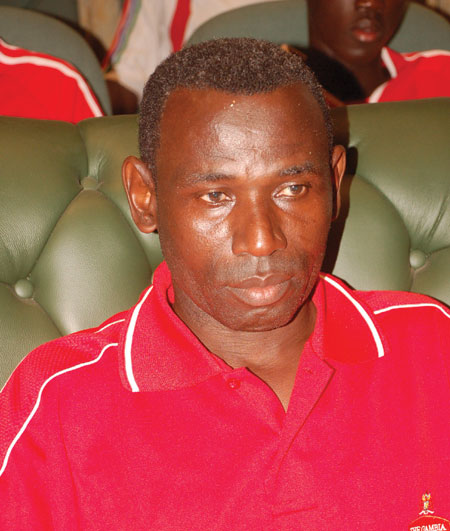 The Gambia national U-17 team that endured a miserable campaign in the 9th Edition of CAF U-17 youth championship in Rwanda will return to Banjul from Kigali tomorrow, Pointsport has gathered.
The team, which suffered their worst defeat ever in the continental youth championship in Rwanda, crashed out of the tournament following their humiliating 4-1 defeat to Ivory Coast on Saturday.
The team's woeful performances against Congo and Ivory Coast were received with great shock and disappointment by Gambian fans back home, who described the current crop of U-17 players as the worst ever to appear in the CAF U-17 tournament.
The disappointed and embarrassing Coach Lamin Sambou claimed to have travelled to Rwanda with the best U-17 team the country had ever produced in its history.
But it was the same team that turned out to be the worst and the weakest U-17 team the country has ever produced.
They have broken the country's impressive record at the U-17 level after a string of dismal performances.
Sambou and his unimpressive side are expected to arrive in Banjul on Thursday, a reliable source close to the team in Gisenyi, yesterday disclosed to this reporter.
The two-time Africa champions at the U-17 level will return home tomorrow on the back of an embarrassing 3-nil and 4-1 defeats in the hands of Congo Brazzaville and Ivory Coast.
They could only manage a narrow 1-nil win over Mali in their second group game but that was followed by a disastrous display against Ivory Coast and eventually their crashing out of the eight-team tournament much to the disappointment of Gambian fans.
While many cast blame on the man at the helm of affairs, Lamin Sambou, for the team's dismal showing that saw them conceded seven goals in two matches, the unpopular coach however point fingers at his players for The Gambia's failure to survive  the group stage.
He told West Coast Radio's Abdoulie Bah in Rwanda that the boys were to be held responsible for the Gambia's dismal performance because they failed to follow instructions.
Sambou, who seems to care less about the Gambia's disastrous campaign, was also quoted as saying, "If it warrants the GFA to sack me, I will go up to my farm to continue farming as we all know I am a farmer."
Read Other Articles In Article (Archive)