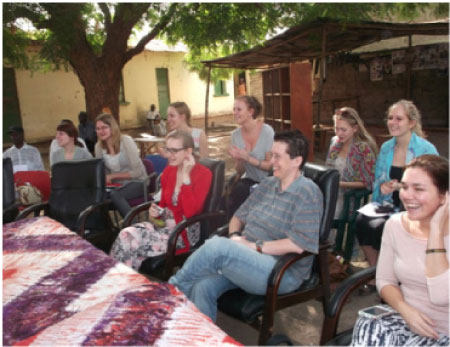 A team that comprised twenty female students from the University of Amsterdam is currently on a week's visit in the country to meet their Gambian friends at the Gambia Association of Physically Disabled (GAPD).
As part of their visit, the students donated 450 Euros to GAPD during a meeting with GAPD officials in Brikama.
The exchange programme was made possible through Heart for Gambia Foundation Gambia's Executive Director, Mr. Abdoulie Leo, who was lauded for facilitating the link. Also, the students were hailed for the donation.
Speaking at a meeting held at GAPD head office in Brikama, West Coast Region on Monday to welcome the students, Mr. Abdoulie Jawneh, the President of GAPD said "this is the first visit since they have established the link with the University."
"I am very happy and delighted in welcoming you," said Mr Jawneh as he received the delegation and the donated items.
GAPD's President briefed the delegation about his organisation, saying GADP's objectives include advocating the prevention of physical disabilities, as well as the full participation of persons with physical disabilities at the level of society.
He urged the visiting students to make the best use of their stay in the country, by exploring its beauty.
He informed the gathering that the Government of The Gambia is equally very much concerned about the welfare of disabled people in the country.
"We used to sit under a tree to do our meetings; today with the help of Hearth for Gambia Foundation we are having our own office. We have been receiving many surprises just like the 450 Euros cheque which we are not expecting today, but we say big thanks to Heart for Gambia Foundation," he stated.
Mr. Abdoulie Leo, the Director of Heart for Gambia Foundation, who linked University of Amsterdam and GAPD, spoke at the occasion. Also, the University of Amsterdam team leader Pauline Roozen and Yvette Reijnen thanked GAPD for the warm welcome accorded the team, as he presented the cheque to GAPD.
Sheriffo Jammeh and Mariama Njie, all members of GAPD, spoke at the meeting, while Madam Anna Bass delivered the vote of thanks.
Read Other Articles In Article (Archive)