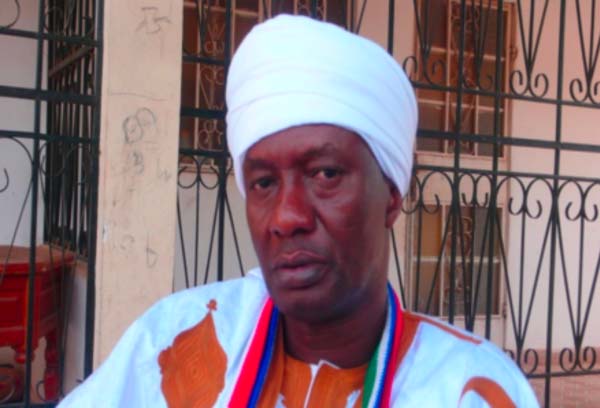 A Gambian philanthropist, Momodou Turo Darboe, who is also the Chief Executive Officer of Vision Development Foundation (VDF), last Thursday distributed consumables and cheques to various institutions and individuals, as well as for community initiatives across the country.

Items such as rice and soft drinks, among others, as well as several cheques amounting to D471,700 were given by the Gambian philanthropist.
The presentation ceremony, held at his office in Churchill's Town, was part of Turo Darboe's annual package of contribution to supporting people and institutions, in respect of the New Year.
The beneficiaries were Masjd E. Noor in Wellingara, who received D100,000; Biodiversity Action Journalists, D37, 500; the Gambia Christian Council, 50 25-kg bags of rice and 50 cartons of drinks; Tango D25,000; Makumbaya Newtown, D200,000; a sponsorship package to an MDI student for D15,200; and Ekun Baba Odeh Hunting Society which received D30,000, all amounting to D471,700.
Speaking at the ceremony, Saikou Fofana, public relations officer of VDF, stressed that the Foundation is a non-governmental organization, and that it part of their programme of activities, carried out every six months, to give a helping hand to institutions in need, individuals and groups to promote their initiatives and agenda.
According to him, the support given was part of VDF's initiatives to complement the government efforts at supporting and helping communities in the building of infrastructure, construction of roads, building women's gardens, giving support to youth groups, and promoting micro-financing services and other related issues.
In his remarks, the executive director of TANGO and one of the beneficiaries, Ousman Yabo, commended and appreciated VDF and its founder and leader Turo Darboe, for the invaluable gesture.
This was not a surprise as it was not the first time he had been undertaking such development initiatives in the country, giving to underprivileged people, Mr Yabo said.
He prayed for the foundation and its founder and CEO Momodou Turo Darboe, for long life, and good health to continue to carry out Godly services.
He urged other Gambian philanthropists to emulate Mr Darboe to move the country forward through helping the youths.
In receiving the gifts on behalf of the Gambia Christian Council, David Hafner thanked and appreciated Mr Darboe, as well as called on others with the means to emulate his good deeds.
Also speaking at the presentation was the executive director of Biodiversity Action Journalists, Samba Jawo, who thanked Turo Darboe for his benevolent gesture in supporting community initiatives, individuals and also recognising the role of the media in national development.
According Mr Jawo, the money received would greatly help his members to tackle some of their challenges in preparing their website, and conducting training on environmental issues for its members.
Jawo also thanked the board members of the foundation through their chief executive officer, for the support and encouragement to Biodiversity Action Journalists.
He also described Mr Darboe as a "man who has love for humanity", and prayed that the Almighty continues to bless him bountifully.
Read Other Articles In Article (Archive)