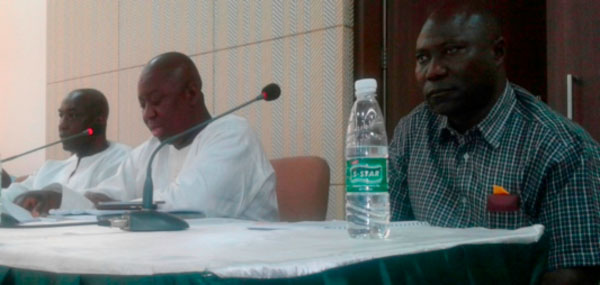 The joint session of the Public Accounts and Public Enterprises committees (PAC/PEC) of the National Assembly yesterday adopted the annual activity report and financial statement of the Gambia Bureau of Statistics (GBoS).
In his contribution, Hon. Lamin Hydara, National Assembly Member for Jarra East, said according to the report GBOS had not shown those members of staff doing courses overseas; instead the report had only shown those studying locally.
Hon. Mam Cherno Jallow, National Assembly Member for Upper Niumi, thanked the board and management of GBoS for their "excellent report" and for being "94 per cent compliant", according to the GPPA report.
He added that GBoS is a very important institution in the development of the country, because "a nation could not be developed if its population is not known."
Hon. Jallow further said that in any institution's compliance is very key, because there are regulations and laws that are binding for certain actions.
He said according to the GBoS management's letter on the contract, it is stated that on 8 February 2005 the Bureau entered into a contract with ASK Plumbing for regular maintenance of sanitary and other installations in the GBoS building.
He added that the same year 2005 what the auditors saw was an open contract; there was no term stated when it could end, which was a concern for the auditors.
"I was not very much convinced with the management's response, which stated that this was a decision taken by the previous administration for the awarding of an open contract with ASK Plumbing," he said.
He further commented on the award contract to the company and cited the aspect of bank reconciliation, financial instructions and budget management.
Responding to the comments and questions to GBoS, the Statistician General, Nyakassi B.M. Sanyang, said they have eight staff that are studying outside of the country.
"This means that we are very serious in building the capacity of our staff and the problem will be solved very soon," he said.
With regard to the management letter, Mr Sanyang said they did not receive the letter on time.
Said they had limited time to prepare their facts, which caused some key errors.
Management promised that next time the management letter and other issues will be taken care of on time before the due date.
Read Other Articles In Article (Archive)