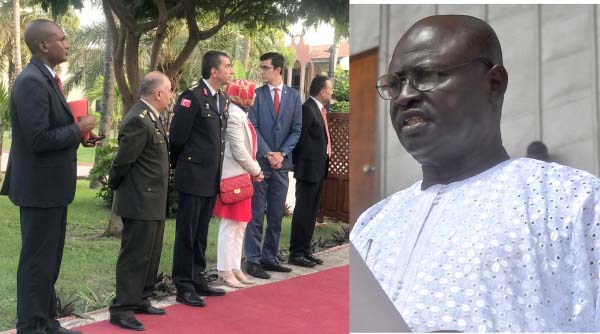 Turkish Embassy in Banjul, Tuesday celebrated the country's 96th anniversary at Ocean Bay Hotel in Cape Point, Bakau. The event celebrated the history of modern Turkey which begins with the foundation of the republic on October 29, 1923.

This was the day Mustafa Kemal Ataturk declared the state as a republic after which a vote was held in the Grand National Assembly and he was elected as the first president of the Republic of Turkey.
Representing the government of The Gambia at the event, Trade Minister Lamin Jobe acknowledged the bilateral relationship between the two countries, saying Turkey's partnership with The Gambia is based on mutual respect and friendly relations. "Turkey and The Gambia have set up diplomatic relations since The Gambia's independence in 1965," he said.
Minister Jobe said as part of the existence of its educational activities in West African region, Turkish Maarif Foundation (TMV) has opened a primary school in Banjul in 2017.
The Maarif Turkish International School has been in operation in Banjul since October 2017 and celebrated the first graduation in July 2017. "As of 26 November 2018, Turkish Airlines started flights from Istanbul to Banjul twice a week, enhancing people to people exchanges and fostering business opportunities between the two countries," he said.
At the reception, Ambassador Ismail Sefa Yuceer said Turkish government has been actively involved in building the capacity of Gambian institutions and providing aid in kind.
On education, he said each year the Turkish government, together with the private universities, allocate higher education scholarships to The Gambian students, saying his government has provided 35 higher education scholarships to Gambian students for the period of 2019-2020.
Read Other Articles In Article (Archive)