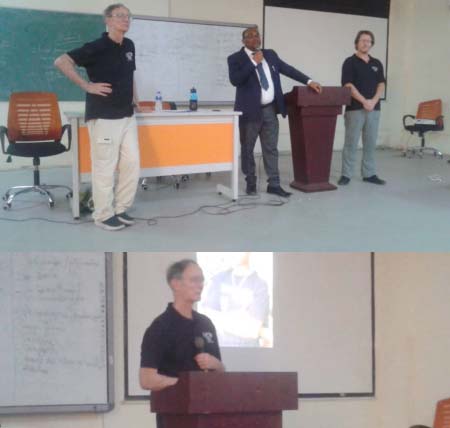 A board member of the United States international charity, Mercy Ship, which is currently operating the largest non-governmental hospital ship, Wednesday addressed medical students of American International University West Africa (AIUWA), reminding them that in the field of medical services, anyone can change lives through humanitarian assistance.

Dr Keith Thomson, who is also an anesthetist consultant, delivered a lecture to the students at the University's Kanifing campus on the topic: tales from Mercy Ship. He encouraged the students to take up humanitarian services to save lives in Africa, saying majority of Africans face difficulties to access medical health care.
He said volunteers from over 49 nations have served onboard the Africa Mercy, which was acquired in 1999 and refurbished specifically for the Mercy Ships mission. It is the largest non-governmental hospital ship in the world, effectively more than doubling the annual medical capacity of her predecessors.
"Africa Mercy Ship spends ten months a year in one country and when we leave any country, we try to leave an influence that focus must be given to health services," Dr Keith told the students.
He said Africa Mercy Ship has accommodation for over 400 volunteers with 180 patient beds, 60 operational theatres with fully equipped laboratories.
Mercy Ship member Dr Gary Dickinson also delivered a lecture on recognition and treatment of critically ill patients, telling the students that many causes of serious illnesses could be improved by simple assessment.
He said they always ensure applying the ABC approach in their services for improving and resuscitating lives, reminding the students that no matter what happen to their patients, oxygen will be one of their first important point of consideration.
A major inspiration for Mercy Ships' president and founder Don Stephens was the work of the international hospital ship SS Hope. Stephens' research showed that 95 of the 100 largest cities in the world were port cities. Therefore, a hospital ship could deliver healthcare very efficiently to large numbers of people. The birth of Stephens' disabled son, John Paul, also inspired him to move forward with his vision of a floating hospital. A visit with Mother Teresa in Calcutta, India, further deepened his commitment to serving the world's neediest people.
At any given time during its nearly 40-year history, Mercy Ships has had between 1 and 3 ships in service. Currently, the Africa Mercy is the only Mercy Ship in service, but it represents greater capacity than all prior hospital ships combined. Since the deployment of the Africa Mercy, Mercy Ships has been committed to adding another ship to the fleet.
American International University West Africa president, Dinesh Shukla said Mercy Ships is an inspiration to the world, helping thousands of people.
Read Other Articles In Article (Archive)