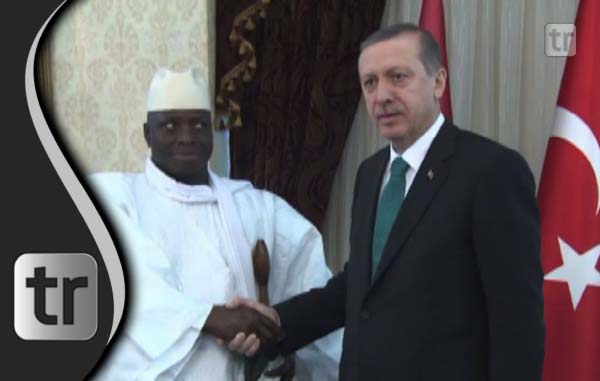 In line with the agreement that was reached between the Turkish President H.E. Tayyip Erdogan and Gambian President H.E. Yahya Jammeh, a Turkish Cultural Centre will be established in The Gambia.
To this end, officials from the Turkish Yunus Emre Institute visited The Gambia between 29 September and 1October 2015, and held discussions with the relevant Gambian authorities regarding the establishment of a Turkish Cultural Centre in The Gambia.
"If everything goes as planned by the stakeholders, all the necessary arrangements would be in place for the centre to be fully functional in early 2016," a statement by the Turkish Embassy in Banjul said.
This outstanding Turkish Institute was named after Yunus Emre, famous Turkish Folk Poet who lived in Turkey between 1240 -1321, the statement added.
The initiative created by a decree by H.E. President Tayyip Erdogan back in 2007, is an organisation offering cultural, vocational and social programmes for the people of friendly countries around the world.
Today, Yunus Emre Turkish Cultural Centres are operating in more than 40 countries in Europe, America, Asia, Middle East, Balkans and Caucasia.
The Turkish Cultural Centre will be the venue for a wide-range of activities, especially for young people and women, the statement also said.
The activities will include Turkish cooking and Turkish language classes, traditional and modern forms of Islamic arts including embellishment, ornamentation, marbling, calligraphy and penmanship, miniature, poetry and literature, handicrafts and craftsmanship, tile and porcelain making, glass and silverwork, carpet and kilim weaving, Karagoz shadow theatre, musical instruments and folk dances, fashion design, and some exhibitions of pictures, paintings and sculptures, and also concerts, theatre plays andmovie weeks, lectures, conferences, symposiums and cultural heritage preservation training, both tangible and intangible, according to the statement.
"The proposed 'Yunus Emre Turkish Cultural Centre' will no doubt help connect in a better way the cultures of these two brotherly and friendly countries," the statement added.
Read Other Articles In Article (Archive)