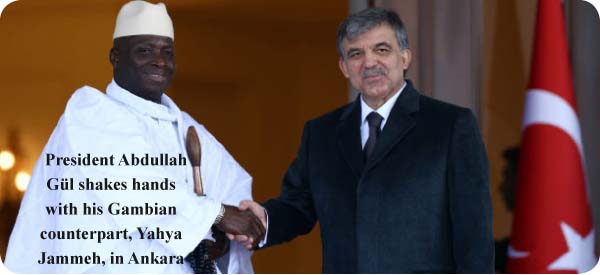 Turkish and Gambian officials signed a number of cooperation agreements during Gambian President Yahya Jammeh's visit to Ankara on Tuesday.
Paying an official two-day visit to Turkey at the invitation of President Abdullah Gul, Jammeh had bilateral talks with Gul. 
Following a tete-a-tete meeting, delegations from the two countries signed protocols and a number of cooperations agreements in the fields of health, defence, taxation, culture, sports, education and security cooperation.
Health Minister Mehmet Muzezzinoglu, Defence Minister Ismet Yilmaz, Finance Minister Mehmet Simsek, Culture and Tourism Minister Omer Celik and Interior Minister Efkan Ala signed the agreements on behalf of the Turkish government.
Bilateral relations between Turkey and Gambia and issues related tot he African continent were discussed at the meeting. The presidents also exchanged views on regional and international developments. 
In a press conference held after the bilateral and inter delegation meetings, Gul said efforts on a free trade agreement (FTA) with Gambia are ongoing.
Gul described Gambia as "one of the doors opening into Africa" and mentioned the business forum in Instanbul that is planned for Wednesday. Gul said Jammeh will meet with businessmen and explain the investment potential of Gambia.
"Africa has become an area of interest for Turkish investors. We believe that Gambia will also become one of the most important partners of Turkey in Africa," Gul stated.
The Gambian president also called on Turkish business people to invest in his country. Jammeh said the number of tourists visiting Gambia has been increasing day by day and that the country needs more hotels to meet demand.
"We are ready to provide any area on the shoreline of the country to them (Turkish construction companies)," the Gambian president said. 
Jammeh expressed a commitment to better relations with Turkey. He said Gambia always stands by Turkey on trade, diplomacy, defence, security, politics, science, technology and culture, adding that he wants relations between the two countries to be a model for others.
Gul said Gambia is one of the African countries that have supported Turkey on the Cyprus issue.
He also talked of the relations between Turkey and Gambia, saying that one of the pillars of Turkey-Gambia ties was the military training provided by Turkish military officers since in the 1990s. He also stated that Turkey will not leave African countries with their problems, and will continue to provide aid to these countries.
Souce: http://www.todayszaman.com
Read Other Articles In Article (Archive)