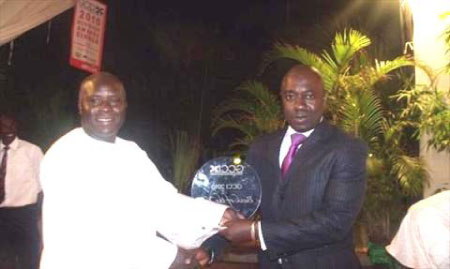 Since three weeks ago, Trust Bank Gambia Limited has been celebrating yet another outstanding award as the Gambia Chamber of Commerce and Industry (GCCI) bank of the year 2010 in recognition of its continued and unrivalled contribution to the socio-economic development of this country.
To be sure, there is much well worth celebrating; Trust Bank, the 'Gambian bank' is arguable the most successful bank in The Gambia today.
When Trust Bank Limited started operations in the country's growing banking industry some 14 years ago, it was a unique beginning. The bank made a pledge to Gambians and even non Gambians alike living in the country that it would provide sound, convenient and reliable banking services backed by remarkable corporate social responsibilities. It pledged to bring banking services to the door steps of its ever growing customers across the country.
Today, the bank has delivered on its promises so much so that it has even gone beyond. The bank today employs nearly 300 people and a management team consisting of highly experienced Gambians who have a very strong knowledge of the banking industry. The shareholding is in the hands of institutional investors, both local and foreign, individuals and employees of the Bank.
With its Head Office located at 3-4 Ecowas Avenue Banjul, Trust Bank operates 13 branches in the length and breadth of the country. The bank offers a wide range of products and services that serves the needs of its individual and corporate clientele. In the last few years the bank has invested significant amount of fund to leverage on superior technology to provide more access and convenience to its customers both home and abroad.
Being highly cognizant of the bank's contribution to the socio-economic development of this country over the years, the Gambia Chamber of Commerce and Industry few weeks ago singled out Trust Bank out of a really formidable list of banks operating in the country and awarded it as Bank of the year 2010, making it the fifth time that the bank won the same award.
No doubt, the bank has proved to be an unmitigated success. As explained by Mr Dodou Nyang, Marketing Manager Trust Bank Gambia Limited in an interview with The Point: "I think there many reasons why we keeping wining it (The GCCI Award) and I just want tell you that it was not out of kindness of somebody's heart, it was not an accident, Trust Bank have a unique and particular way of doing things and it is the wish of every organisation around the world that when you have a vision, people log on to that vision. At Trust Bank, all what I can say is that we a vision, we have a unique way of doing business and we are really grateful that the market has log on to this particular vision and the unique way that we do business."
"You can come and propose a way of doing business but then people fail to notice it or people fail to really accept your particular way of doing business. So really we should be very gratified that the customer based in the Gambia with all the choice that they have in front of them, have decided that they are more in tune with Trust Bank's way of doing business," Nyang said.
According to him, the particular way is that Trust Bank is managed and staff by veteran bankers; veteran bankers who have a special and unique insight into the banking industry of the Gambia. "We have people who have been there during the transition, development and metamorphosis of Gambian banking. We have people at Trust Bank who have understanding of the banking industry. We also have to accept that Gambian banking has really developed in the last Fifteen years. Trust Bank is unique that it is the envy of the banking industry in the Gambia; that it has the people who have seen it all how banking was years ago and how it has developed.
We give solutions to our customers that are unique and specifically targeted to their needs; we do it in a way that will always be very difficult for any bank to replicate," Trust marketing manager told the Point.
"Secondly when Trust Bank came to being, we had people who were really visionary and their vision was to give world class banking products, bring it to the doorsteps of customers in the Gambia. Since our inception in 1997, everything we done, I think have strengthened that vision.  If you look at the array of banking products that we have introduced to this market, we have not just introduced it to the Trust Bank range of product, we have actually introduced it to the Gambia and they are many and very useful.
After 13 years of successful operations, Trust Bank today stands out as a bank that contributed and continues to contribute heavily in the areas of Health, Education and Sports.
In the area of Youth and Sports, the Bank continued to make donations to Secondary School sports, U17 National Team, private and public sector football tournaments as well as to the National Youth Service Scheme.
In the field of education, the bank continued to award prizes to deserving students from Secondary Schools as part of the Excellence in the Millennium Award Scheme and continued to support the University of the Gambia.
The bank's corporate social responsibility objective is to empower the nation through building a stronger, healthier and educated populace.
He added: "Now with the Trust Bank online banking, it compliments what is already a reality in this market. Gambian people wherever they are in this world, they choose Trust Bank as their bank and for obvious reasons. When you have a bank that is 100% Gambian managed, 100% Gambian staff and you live abroad, you want to give it to the Bank you know, you want to give to the people that reflect your reflection and for Trust Bank that reflection is always realize on us anytime you visit our bank."
"We have been very successful over the years and that success we owe it to our esteem customers. Trust Bank has always promise that we will endeavor to always give back to the community that puts us where we are in a very big and meaningful way. With our corporate responsibility especially in the areas of education, health, disaster relief and sports, I can safely say without fear of contradiction that we have given almost equal to what every other entity in our industry give."
Nyang noted that these are some of the reasons why Trust Bank continues to receive accolades both nationally and internationally.
He stated that considering the world economic downturn and the intensity of the competition in the Gambia, Trust Bank has really been successful again as its total increased by almost 16% from D2.9 billion to D3.4 billion.
"Our profit increased from D64.9 million to almost D70 million but most importantly, the amount of loan we have given and I will tell you why this is important, the amount of loan that we have given increased by almost D400 million. It is important because it shows you the unique way Trust Bank does its business. There are banks in the Gambia who have actually given out fewer loans to their customers last year than the previous years."
"We have introduced many valued added services and always mindful of what will bring the utmost convenience and comfort to our customers. In the area of products that we offer, we have services like the online banking, the SMS banking, the trust alert, the ten ATM machines that we have, which is by far the most ATM machine that you can find from any banks in The Gambia.
Today banking is made easy thanks to the Government of the day and the regulatory authorities. Now as far as the future is concern, I can tell you that even in the next few months, we will come up with products and services that are geared not only for customer satisfaction but their upliftment.
Affordability or immediately making money out of it is always a far thought. It is not something that we think about, we have just introduced the bill payment system making it easy for the customers to pay their bills being it NAWEC, UTG, GAMTEL and many other institutions and ask many of these institutions whether Trust Bank is asking for any commission out of it. We are not. We have brought these products at huge expenses but we are not asking for any commission out of it because these are things that we believe we should bring to complement our important institutions but at the same make life easy for our customers and we will continue to do that.
We thank God for giving us the strength to have a vision to provide the best for the Gambian people and we thank our Government for creating an enabling environment and security for businesses to prosper. We also thank the Central Bank of the Gambia for the way they are regulating and supervising the financial services industry in the Gambia. We also thank our staff for always being there for Trust Bank. But we also reserve special thanks to our esteem customers for putting us and maintaining us at No. 1 always.
Read Other Articles In Article (Archive)