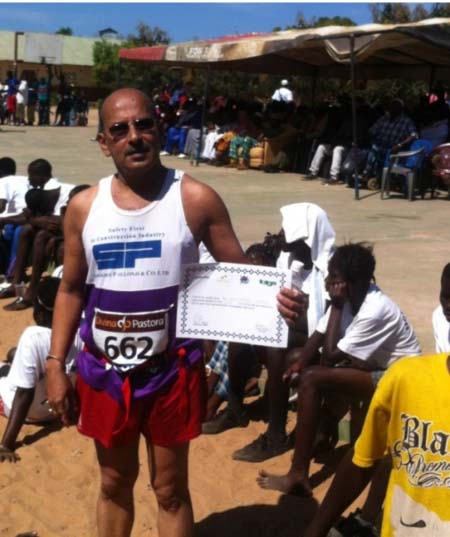 One of the many foreign nationalities that ran the Brufut marathon this year is Indian Gautam Sakar, age 58, who was in fact the oldest male runner in the marathon.
An experienced marathon runner, Gautam works for M/S Shapoorji Pallonji & Co Ltd, the company constructing the New National Assembly Building. 
Sakar did the half marathon in Brufut under 2 hours 2 minutes his personal best at any marathon.
On finishing the run, he said: "This is a unique and excellent experience. My BIB number was 662 and timing was 2 hours 2 minutes and rank was 14, which is better than that of the Mawana Sugar Mills Marathon in India which I ran in 2011 in 2 hours 8 minutes with rank 39. Here in Brufut, I ran with a slogan printed on my running kit as 'Safety First in Construction Industry'.
"Shapoorji Pallonji & LTD, as we are in construction industry, we are doing lots of CSR activities in Ghana and The Gambia; that is celebration of Girl Child Day, World No Tobacco Day, World Environment Day, World Food Day and distribution of pencil, rubbers to school children, etc."
According to Sakar, he was inspired by Ms Sunita Godara, Asian Marathon Champion, who is also his coach and mentor who taught and introduced him to Long Distance Runs.
"I took part in several half marathons and one 50KM Ultra Marathon in India and overseas. In India, I took part in Airtel Delhi Half Marathons, Stan Chart Mumbai International Marathons, and Mawana Sugar Mills Marathons so long I was there in India. I took part in Accra International Marathon on 29 September 2012 in Ghana," he said.
Continuing to comment on the Brufut Marathon, Sakar said:  "The organizers and the participants of Brufut were very much co-operative; the weather was charming, the route was very good and facilities were excellent.
"But it is advisable to the Brufut oprganizers to maintain the starting time as declared and to get the registration done with local and international authorities to bring this run to the International arena. Moreover, there were no groupings for veterans like me, which is required to attract the veterans and expatriates.''
Read Other Articles In Article (Archive)