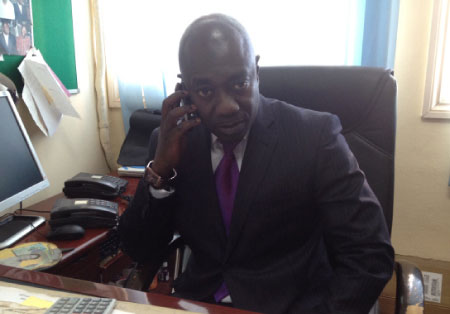 Over the years in its 15 years of operations, Trust Bank Gambia Limited has continued to set the pace in almost all facets of banking in the Gambia financial market by leaps and bounds, meeting the satisfaction of its shareholders, staff and customers. Some of the areas the bank has also been of great service to the nation are in its loans and advances to customers and its unmatched contribution, in the banking industry, to the national economy. The Bank's Senior Manager for Marketing and Sales, Dodou Nyang, speaks to The Point on these and sundry issues in this exclusive interview.
What is the performance of Trust Bank Gambia Limited in the course of 2012, especially in the areas of profit posting and products and services to the public?
With regard to our performance is a question that is easily answered by some but here at Trust Bank we answer it slightly differently. I know it is important to talk about profit. Profits are very important because this bank like all or most privately run organizations has to be economically viable, has to give returns to its owners; and it is only by making profit can you give returns to your owners, and by that I mean the shareholders who make up Trust Bank; that is our institutional investors, private individuals and staff of Trust Bank; they are the three groups that make up the total number of shareholders of Trust Bank.
With regard to performance, I cannot really give you our performance for 2012. If you know the sequence of events for big companies like ours, is that you are until the end of the year, then you have your AGM and then you declare profits. So the only declared profit we have documented at the moment is for the period 1 January to 31 December 2011.
The performance for 2012 will, as it is always the case, be announced during our AGM for 2013 where we will be talking about our performance for 2012. So it will be premature of me to really talk in any great detail about our performance for 2012. What I do know is that when you take an exam – if you are a student – and you go to the exam hall and then you sit to the paper and at the end you leave and go home, you always have an inkling, you always have an idea as to how well you have done on your paper; a lot of people have to wait for the results to come out but a lot of people too always have a hunch as to how well they might have done. And the same is true for Trust Bank for 2012. I am not saying that we will come up with superhuman profit, but I think when the story of 2012 is told, to the casual observer what will be immediately detectable would be the fact that Trust Bank has been able to hold its own during 2012 - I think that's the best I can say.
Now if I have to talk about profits, then I have to make a comparison between 2010 and 2011, which are the two most recent reported results; and it is common knowledge by now that the profit for 2011increased by 58% from about D70 million to D110 million during the course of that year; so 58%improvement in profit for 2011 and earnings per share – the number of shares in relation to the profits that Trust Bank made -increased by 58% and that is from 35bututs to 55 bututs in 2011.
But at Trust Bank here too, it's not just about performance, even though the earnings per share is important, dividend per share is important, profit is important; the tax we pay is important as well, because on a quick glance at the profit itself shows that Trust Bank paid close to D80 million in tax in 2011, and I repeat Trust Bank paid close to D80 million in 2011.Put that into perspective, shall we, and it shows that we paid to the government as part of our taxation obligation close to three million American dollars in 2011 – that is no mean feat. Remember that the tax you pay is the ultimate corporate responsibility, even though we all know that you are compelled to do so, but it's a responsibility and I don't think for 2011 you can have many companies in Gambia here that have paid close to D80 million in 2011; very few companies would have paid that much tax to the government. Certainly no bank paid that; very few companies in general in The Gambia paid that much and I am sure that no bank in this country paid that. So our contribution to our government being able to provide services in this country is second to none in our industry. I think that is performance worth writing home about.
Secondly the loans we gave out in 2011 is close to one billion, one hundred and forty-three million, seven hundred and sixty thousand dalasis (D1,143,760,000.00). I repeat one billion, one hundred and forty-three million, seven hundred and sixty thousand dalasis is what we gave out as loans in 2011.
Now why is this important? Economic growth has slowed considerably in this country; in fact it has slowed by a very huge margin around the globe. Companies are struggling; banks are only just recovering even in the richest countries around the world, and The Gambia is no exception. Now having to operate in this financial services landscape, caution is the name of the game. Now for Trust Bank to lend out close to one billion, one hundred and forty-three million, seven hundred and sixty thousand dalasis means that whilst we are still cautious in the way we carry out our business we recognize too that we have a special responsibility as far as The Gambia is concerned. What we do making finance accessible to people is one of the most important components in helping the country register economic growth; so Trust Bank cannot just shy away from that.
We have a special or unique responsibility; that means that whilst others might be practicing caution - as every bank should – we can, to a certain degree, throw caution to the wind because we have a special responsibility or I would say we have a higher calling to really come good and we cannot shy away from that. So during 2011 that is how much money that we have lent out in the market, and anybody who wants to make any comparison, going round the amount of lending in the whole industry, I think Trust Bank with almost D1.2 billion is comparable to any you have around the country, and if you go even to other countries in Africa, you will see that the size of our balance sheet vis-à-vis the amount of money that we lent, really, is comparable to any that you can find in Africa – any bank that has a special obligation to a particular country that it is operating in. I think really this is the essence of Trust Bank; this is what sets us apart from the rest.
And the second to last aspect of the performance that I want to talk about is that during the course of 2011 the balance sheet of Trust Bank improved by 19%; that is from D3.4 billion in 2010 to D4.1 billion in 2011. That means that during 2011, Trust Bank expanded and expanded to the level that can only be quantified by stating the fact that Trust Bank expanded by D700 million during 2011.
Now the most important indicator also - that's the last I am going to give you - is the fact that banking depends on us attracting deposits, and no way that people are not going to come for their money at the same time. Having substantial deposits from the people gives us the confidence, the willingness or I could say the boldness to lend some of that money out and make some money out of it.
Now in a highly competitive environment like we have in The Gambia, the deposit that we receive is the stamp of approval any bank needs in the country that it is operating in. And you would have seen that in 2009, our total deposits was D2, 900,000,000 (D2.9 billion). In 2011 it increased to D3.5 billion. Now if you take the total deposits in the market in The Gambia, I don't think it is anywhere close to D8 billion or may be about D10 billion. Now from that D10 billion if one bank accounts for almost D3.5 billion, it means that the market, Number 1, has a confidence in your bank, it trusts your bank and it has every confidence that this is a bank that is very well run and it is here to stay; that is what the market is saying when it brings all that money to you. So that's why it is always dangerous to equate your performance with your assets because, remember, your lending is part of your assets but you can lend and not exercise very good lending, but the deposits is the market attitude towards you.
In America, when President Obama makes a statement that can affect the market, it shows in the Dow Jones Index; the same happens in the Footsie in the United Kingdom. Market sentiments can easily be deduced from following those indices.
In The Gambia it is different; we don't have such and the closest to that is the stamp of approval that you get from the market, and they don't come more credible than the deposits you receive.
What impact your loans to customers have made?
I think it has an impact. I remember last year – because Trust Bank are board members of the American Chamber of Commerce – and as it is incumbent on us, being board members, some times we are part of the group that pays courtesy calls to certain ministers in the country, especially the Minister for Trade and Industry, and Finance and Economic Affairs some times – but this time we went to see the American ambassador Mrs White, the one who was here before Mr Edward Alford came. And we went in to her office and we were talking and she was asking all the different participants to that meeting, each asking them questions relevant to their field, and she came to me and asked, 'why is it so hard to access financing in The Gambia?' I think she asks that questions and a lot of people also ask that same question, because when you are doing an index comparing what is around the world with regards to ease of doing business in a particular country, you look at the source of financing and how easy or difficult it is to access it. And The Gambia too is no exception and we all know that it is very difficult; it is difficult because customers will always find it the most challenging to be able to prove to the bank that they have the ability to repay. Now, establishing ability to pay is not very easy, and some times when you try to be very stringent in your due diligence, chances are you will end up with very few attractive lending opportunities. And here too is where Trust Bank comes in. We do our due diligence like any other bank. We all know very well as a bank – we have been here for a very long time; we have people in this bank who are the most experienced banking practitioners our country has ever known. So of course we know what due diligence is; we understand what the risks are; we are very much aware of it but as I said earlier we too have a special responsibility in this country, and we all know that financing, even though we all accept the private sector is the engine of growth, if the private sector is starved of financing, then it becomes very difficult for them to be able to be rightly called the engine of growth. And I think the D1.2 billion of lending during 2011 demonstrates adequately that Trust Bank is doing its bits and more to keep the engine of growth running. So financing is hard but I think Trust Bank is giving its fair bit.
What would you say Trust Bank has done in the course of the year as regards your CSR - corporate social responsibility - to boosting social development in this country, which is based not necessarily on declaration of profit for 2012?
I am sorry, you cannot detach CSR from profitability, and I will show you the link. Trust Bank has always undertaking; these are promises we made 15 year ago when we started; that we will try and bring banking to the doorsteps of our people, and I think that with our 16 branches and more to come, and with our technology-based products that are out there in the market, be it our ATM, our online banking, our SMS banking, our SMS Alert plus our 16 branches and our 10 ATM machines sprinkled around the greater Banjul area, I think we have demonstrated adequately that both literally and virtually we have brought banking to the doorsteps of the people or within easy reach – I can even say at your fingertips. We have brought banking to the doorsteps of our people.
In the same vein too, we did say the better we do as a bank, financially, the more we give back to the community, and that holds true today as it has always been and even for the foreseeable future.
So the more profit Trust Bank makes be rest assured that you will hear of more areas of intervention from the bank.
Now during 2011, we have already exhausted the almost D80 million we have paid to the exchequer; that is just one.
In the areas of education, health, disaster relief and sport, Trust Bank has over the years and continues to contribute greatly to these areas.For example, we receive numerous requests on a daily basis. On a weekly basis it can be hundreds of requests from the community asking for interventions from Trust Bank, and we look at all these requests and we prioritise given the higher weighting to disaster relief, health, education and sport.
I think if you concentrate on those four, the areas that you can say are left out are minimal. And if they are left out, believe you me, they are left out because really they are not our priority.
But I can tell you that even in the entertainment field, and culture, which are not life and death situations, Trust Bank, during the course of the year, contributed huge amounts to those areas; so there is no area in The Gambia that is left behind.
But of course we prioritise and health, as always, is our priority; education is immediate second, disaster relief is an immediate third and maybe sport is a distant fourth. These really are the areas that guide our actions.
In the area of disaster relief we make our contributions to the National Disaster Relief Efforts, under the auspices of the Office of the Vice President. We make our voice heard every year, different from the little donations we make to people who write directly to the bank.
In the area of sport, we still receive a lot of requests and we contribute where we can.
In the area of education, be it the senior secondary schools where we sponsor awards during their speech and prize-giving days every year; we sponsor university convocation ceremonies every year and also set up scholarship funds with the university where we provide the financing and they do the assessment and disbursement, and through our baby which is the Excellence in the Millennium Award that we do every year and we have just celebrated the 10th anniversary of it.
And we also intervene in the health sector, where we still respond favourably to requests from various health facilities around the country but we have our three or four that are very close to our heart, and these are the Maternity Wing at the AFPRC Hospital in Farafenni, the Leman's Street Clinic at Banjul South and also the RVTH Sanatorium at Bund Road. Together these three, in the last 15 years, I can safely say Trust Bank has contributed close to D15 million or more to them since our inception.
So with regards to our CSR, I think Trust Bank can say that we have contributed meaningfully but also deeply. It's not just good to just throw in a few thousand dalasi here and there; it is to really make an informed assessment to find out what really will make a difference, and contribute to that extent, and in the last few years we have been able to do that; I think the results, when you visit these institutions, is glaringly evident.
There has been so much cry in the country that interest rate on loan is very high – that inclusive of all the banks – compared to other countries inAfrica where I understand it can be around 10 to 15 per cent, and in Europe something similar or less. But here in The Gambia it has been between 14 and 27 per cent for some banks. In general it has been high. What is Trust Bank's position on interest rate, and would there be any plan for 2013 for all the banks to come together to come up with relatively appreciable interest rate charge for people of The Gambia so they can enjoy the benefits of the role banks are playing in this country?
Well thank you very much; this question is always a very touchy one. And also the answer you gave is always viewed with a degree of scepticism. I think I can say a stronger word than scepticism is that the answer you gave is even viewed or construed with a degree of cynicism, because I am working at the bank: the interest rate in the country we are operating in is high.
Banks are viewed as the primary beneficiaries because of the nature of our business of interest rates, because people just look at the lending rate, and this is how it affects people adversely. So if you the bank stands there and tries to justify the rate of interest, it is viewed with suspicion, scepticism and ultimately cynicism; so it is very difficult for a banker to answer that question, even though I think for a question like that who is better to answer it than a bank; it depends on your point of view, really.
The countries you have quoted for me: when you look at the United Kingdom, for example - which can be used as the representative for other Western countries - is that Treasury Bills and Government bonds, be it long term, medium term or short term, pay very low yields, and the reason for that is the concept of Risks and Returns. Studies for centuries have made it acceptable that the riskier the investment, the higher the rewards; the less risky an investment, the lower the rewards. Even at a very basic level you will see that when you lend money to an individual, the higher the amount, the longer the period, the more interest you get from that lending; so risk and reward pervades everything we do.
Now in those countries you will see that Government Bonds and Treasury Bills yield very low rates of returns, and the reason for that is they are virtually risk-free; since they are risk-free, the returns they attract are minimal. Now compare that to company debentures and buying company stocks, or even buying equities, you will see that there is higher degree of risk associated with those investments; so naturally the returns are higher. This is the situation you find in most developed economies.
In poorer countries, conversely, and Gambia is no exception, you find something really peculiar, especially with regard to Treasury Bills – this is us lending money to the government. We all know that when you are lending money, you can lend it to individuals, you can lend it to companies or you can lend it to the government, but of those three different avenues the government is the most risk-free; the government is here to stay, the government will not default and for that reason when you lend money to government, you can go home and sleep because you know the government will pay. Now since that is the state of affairs, how come then Treasury Bills attach the highest rate of returns, if it is the most risk-free and you are going by the theory of Risk and Returns?
I think Treasury Bills should have been the lowest but that is not the case and I think that is something that is best answered by the economists. But I think those are just one aspect of the peculiarities of our system here.
Now no bank here is lending money at lower than even 5 per cent on top of the Treasury Bill rates. Whilst the United Kingdom and the United States use LIBOR, which is the London Interbank Offer Rate, as a basis for them setting their interest rates, we don't have the equivalent of LIBOR in The Gambia.
So the interest rate and, by extension, the rediscount rate is what Trust Bank uses as the basis of us setting the interest rate for lending and also taking deposits.
Now since we have no hand or no say in the rate of interest paid on Treasury Bills, then you can see that ultimately we just react to events; rather than proactively set them.
Now in that scenario how then can we be expected to be proactive in setting future interest rates? So the very short answer to your question is that we are not ultimately responsible for it; we react to events as best as we could.
You mentioned 27 per cent - I am sure there are institutions out there, be it banks, non-bank financial services providers or even the micro-finance market, where interest rates can be as high as 27 per cent.
But at any one time I can assure you that the interest rates you get at Trust Bank, from a borrowing point of view, will always be the most competitive in the market.
What is Trust Bank's interest rate on loans?
It is always the most competitive and the lowest in the market; at the moment, it is 18, 19, 20% at most 21%, now considering you have mentioned 27%; that really puts it into perspective.
So I can you tell you that we are always the most competitive in the market, and also when the Central Bank of The Gambia reduced the reserve requirement, that gave us slightly more room to lend out, and Trust Bank always step up to the play, and we have been known to do so. I think if everyone emulates what we do, access to finance will be a thing of the past as far as Gambia is concerned.
What is the plan of the bank for 2013?
In 2013, we continue to do what we have become renowned for over the years, but more; with more intensity, with more passion, with more focus, more single-mindedness. We have just opened our 16th branch in Lamin. Anybody who drives through Lamin and not see it must not have been paying any attention; it's out there for everyone to see. And for 2013, there will be another one or two.
With regard to our products, the fact that we are expanding our delivery channels, we have modified and improved our online banking, they are different from anything that you have in the market; our SMS banking we are in the process of updating and modifying as well.
We are selling cash-power for NAWEC and we will continue to do so. It is not accident that Elton is selling cash-power for NAWEC, Trust Bank is selling cash-power for NAWEC. There is a pattern there; companies that have deeply held vested interests in the prosperity of The Gambia always do things differently, because our ultimate motive is not just profit; we also want to see development for our people; so it's part and parcel of our business ideology in this bank, and it permeates every level of this organization; that's why as far as that aspect of the ideology is concerned, I think the future is bright.
What would you say as a last word and Season's Greetings to your people?
Well, as always, I am overwhelmed, and even moved by emotion. Every time I look at where Trust Bank is coming from - from 1997 - and what it has been able to achieve in those years, I don't think ever when the history of banking in The Gambia is written, many years from now, I think the first 15 years of Trust Bank's existence will be looked at as a huge unprecedented success story.
For that, we have to take our hat off to the management of this bank in the last 15 years, but we have to also reserve special gratitude to the customers, who make us what we are in the last few years.
So salutations and, really, heartfelt profound gratitude to our customers for making us what we are; for being with us from the start of the journey to where we are today. This bank is here to stay for many years. We have not been here for even 50 years, but I can boast that we have the biggest and widest branch network this country has ever seen, with regard to access to our customers, both in terms of our physical network and our virtual one. Our customers can tell you that we have truly brought banking to their doorsteps.
So for 2013, I can only wish them all a happy and prosperous 2013, Merry Christmas by the way. Continue please to stick with us, because this is a business that we have a deep understanding for, and our responsibility to the Gambian people is something that we are passionate about, both in terms of giving back but also in terms of giving them the products that bring them all the joy that they expect from their bank.
Thank you very much.
Read Other Articles In Article (Archive)