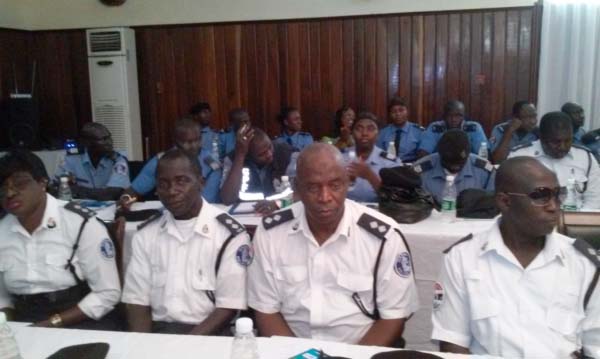 About 40 security personnel drawn from Banjul, Kanifing Municipality and West Coast Region, were Thursday sensitised on HIV and AIDS prevention and control.
The daylong workshop held at a hotel in Kololi was organised by ActionAid International The Gambia and the National Aids Secretariat, with support from Global Fund.
Jainaba Nyang-Njie, communications and documentation manager at ActionAid, said the objectives of the workshop include sensitising the security personnel on HIV and AIDS: causes and consequences on the general population.
It is expected that such forum can contribute meaningfully towards the reduction of new HIV infections among the uniform men and women and the general populace.
Mrs Nyang-Njie said the forum will provide relevant information to the security forces on HIV and AIDS prevention and control mechanisms that are in place in The Gambia.
"It will also help security personnel understand how their role can either be enabler or constrain to the HIV and AIDS response," she said, adding that the ultimate aim is to enable the officers understand and appreciate their role in the national HIV and AIDS response.
Bai Cham, programme manager at Global Fund, said such workshop "is very crucial and important" as far as the country's response to HIV and AIDS is concern.
He noted that HIV and AIDS has no boundary; it is important that the collaboration with the security personnel is strengthened in other to achieve the targeted goals of the national response.
Almamo Barrow, ActionAid Head of Programmes and Policy, said the workshop will equip participants with knowledge and skills of how to mainstream HIV and AIDS in their as security personnel.
He noted that HIV and AIDS has been in The Gambia for more than 35 years and has moved from being a health sector response to a development challenge.
"For that reason, we all have a role to play in ensuring that we achieve our goals of finishing HIV and AIDS," Mr Barrow said. "The world is hoping to finish HIV and AIDS by 2030 which cannot be achieved with some countries lagging behind."
He further pointed out that the role of security forces is paramount as HIV and AIDS is transmitted mainly within the sub-Saharan region by heterosexual contact.
The prevalence of HIV within The Gambia is about 1.9 per cent, according to available statistics.
"Thus there is the need for all of us to come together and put up collective efforts towards ensuring that the high prevalence is reduced as we move towards our zero infection," Mr Barrow said.
Police Superintendent Lamin Jaiteh said thanks to the efforts of partners and stakeholders "there has been tremendous gains in the control and prevention of HIV and AIDS in The Gambia", though it has been a serious problem over the years.
He noted that a successful fight against HIV and AIDS cannot be done by one institution; it requires partnership, collaboration and coordination.
"We the security personnel are mostly engage in peace keeping operations as well as in-service country missions and interaction with people; therefore, we require knowledge and skills in other to be able to prevent ourselves," Superintendent Jaiteh said.
Alpha Khan, deputy director of National Aids Secretariat, said HIV and AIDS can destroy communities, economies, political institutions and even the military and police forces.
"In many countries, the pandemic has affected uniform personnel far more than civilians.Uniform service, especially young men and women, are highly vulnerable to HIV and AIDS because of their work environment," he said.
According to UNAIDS, Sexual Transmission Infections rates among armed forces and police forces are 2 to 5 times higher than among civilians.
HIV and AIDS is the leading cause of death among uniform personnel in some countries, research findings has revealed. 
Read Other Articles In Article (Archive)