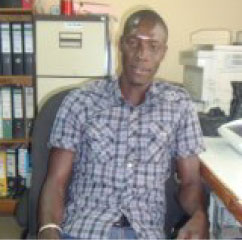 Trust Bank Gambia Limited recently donated D15,000 to Brusubi Phase 2 Sports Development Committee, as part of their contribution towards the development of football in the country.
Speaking at the presentation ceremony, the Senior Finance and Treasury Manager of Trust Bank Ltd, Omar Mboob, said the cash donation was part of the fulfillment of their corporate social responsibility and the recognition of the important role the youth play in national development.
"Trust Bank recognises the fact that for us to develop as a nation we need to come together and work as one to achieve our collective goals," he said.
As research as well as experience has shown that nothing brings people of different backgrounds together as much as sport, Mr Mboob therefore said: "This is actually the third time we are supporting the tournament as way of giving back to the people for their patronage."
He continued: "Trust Bank is a Gambian Bank and we hope to maintain the partnership started with the community of Brusubi for development.
"We are very proud to associate with the Brusubi association knowing that the good work they are doing under the leadership of Alhaji Tiajan Njie will foster unity and development for the community and by extension the entire The Gambia."
Hatab Darboe, in his remarks on the occasion, said the intervention of Trust Bank over the years has immensely fostered communal cohesion whilst enhancing the ability of the youth to undertake self-help development initiatives in repairing roads and engaging in mosque construction.
He added: "We cannot thank Trust Bank enough for this assistance because it helps us to bring youths together for collective action towards national development.
"There is no better way to promote our endeavours to steer the youth away from crime and illicit drugs than sport and Trust Bank has made our work much easier."
Read Other Articles In Article (Archive)