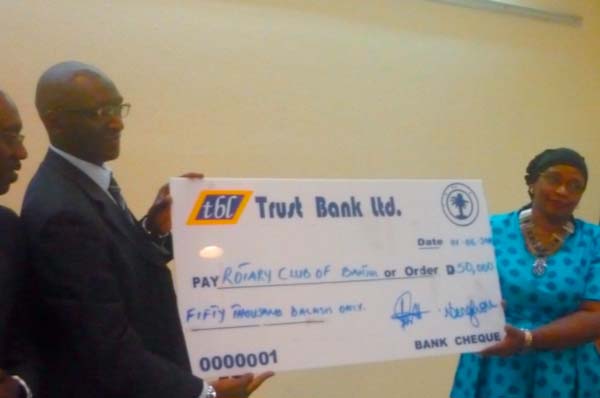 Trust Bank Gambia Limited on Wednesday 1 June 2016 presented a cheque for D50,000 to Rotary Club of Banjul for its Diabetic Foot Care Project, which will be a treatment facility located at the Edward Francis Small Teaching Hospital.
Speaking on the occasion held at the Kairaba Beach Hotel, Rotary Club of Banjul President Fatou Bah said "the donation by Trust Bank, the highest single local contribution so far, has accelerated the efforts of the Rotary Club of Banjul to get started."
The Trust Bank gesture is worthy of emulation, she said, and assured all philanthropists and other companies and institutions that Rotary projects are always worthy causes.
Ms Bah gave a summary of proceeds Rotary Club of Banjul has so far generated for the diabetes project as follows: Gala Dinner - D200,000; Rotarians in the UK – 1,300 pounds; Rotary District 9101 - $2,750; Rotarians in Europe - 730 Euros and Trust Bank Gambia Limited – D50,000.
With reference to the above-mentioned donations and the proceeds from the gala dinner, Ms Bah said they have so far got a total of 9,670 Euros.
The total cost of the project, however, is 15,000 Euros, "Therefore, we are still short by 5,330 Euros," she announced.
She, therefore, pleaded for the general public to emulate Trust Bank by giving them full support, so the project can be successfully completed.
She seized the opportunity to thank all their donors, especially Trust Bank Gambia Ltd, for taking the lead in implementing community programmes and for their strong, moral and financial support of Rotary projects.
Ibrahim Salla, acting Managing Director of Trust Bank Gambia Limited, in his remarks said it was an honour to him to present a cheque for D50,000 to Rotary Club of Banjul in support of the Diabetic Foot Care Project.
He pointed out that Rotary Club of Banjul has demonstrated, over a significant period of time, dedication to the promotion of education and health in The Gambia.
Mr Salla said the Trust Bank donation was not the first time the bank has supported Rotary Club of Banjul.
"Not long ago, we donated D1.5 million towards the construction of a science lab in Kanifing called the Rotary Centennial Science Laboratory Project," he said.
Trust Bank has done a lot over the years in complementing government's efforts in the areas of education and health, he added.
Trust Bank's Corporate Social Responsibility (CSR) drive "attaches so much importance" to the education and health sectors, which is why it was not difficult for the bank to chip in to support the diabetes foot care project, Salla continued.
He thanked the Rotary Club of Banjul for coming up with such a laudable initiative geared towards making a difference in the lives of ordinary Gambians.
Since this was his first social event as acting Managing Director of Trust Bank, Mr Salla said he would also like to seize the opportunity to thank the Board of Directors of Trust Bank and the entire staff for their confidence and support.
"The Diabetes Foot Care Project is a noble project, and we at Trust Bank Ltd are proud to be associated with it," he said.
Aki Allen, District Governor Nominee Designate 9101 of Rotary, in his vote of thanks commended Trust Bank Gambia Limited for their invaluable support to worthy causes, and urged other institutions to emulate them.
Francis Jones, Vice President of Rotary Club of Banjul, also spoke at the event. 
Read Other Articles In Article (Archive)