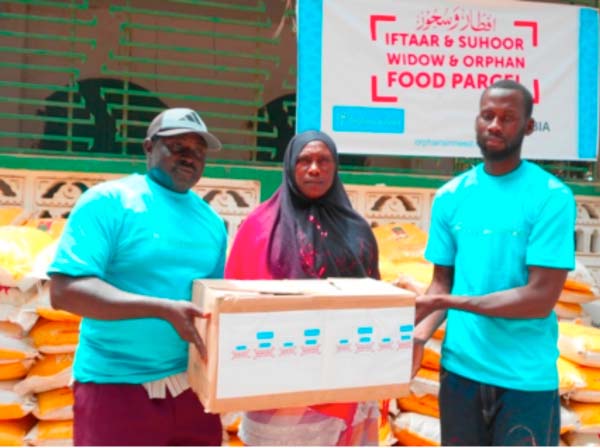 Orphans in Needs Organisation based in the UK in collaboration with Annasru Deen and Development in The Gambia Monday distributed two hundred bags of rice of 25kg together with food parcel containing green tea, oil, sugar, onion, milk, among other food stuff to 200 widows and orphans in the country.

Speaking at the presentation held at the Latrikunda German Mosque, Ebrima Badjie, assistant manager of AnnasuruDeen and Development, said that the activity has been ongoing for yearsnow.
He expressed delight with the collaboration between Orphan in Needs organisation based in the UK and AnnasruDeen and development forsupporting the vulnerable people, especially the widows and the orphans.
According to Mr Badjie, the organisation focuses on helping orphans, adding that they are currently sponsoring about three hundred orphans in The Gambia.
He said the beneficiaries were drawn all over the country, and were selected through registration of orphans that was conducted by Annasru Deen and Development office in The Gambia.
He assured the donors that the donated food items would reach to the rightful people.
For her part, Kaddy Sillah from Latrikunda, a beneficiary expressed joy and appreciation to the donors for providing the widows with these gifts, and assured the properutilisationof the food items with her families.
Jankey Barrow from Gunjur, also a beneficiary expressed similar sentiments,saying helping Muslim at this point was a step in the right direction.
Another beneficiary, Barra Darboe, said the food items would go a long way in addressing their difficulties, while assuring the donors that the foods items has been given to those who need it most.
Read Other Articles In Article (Archive)