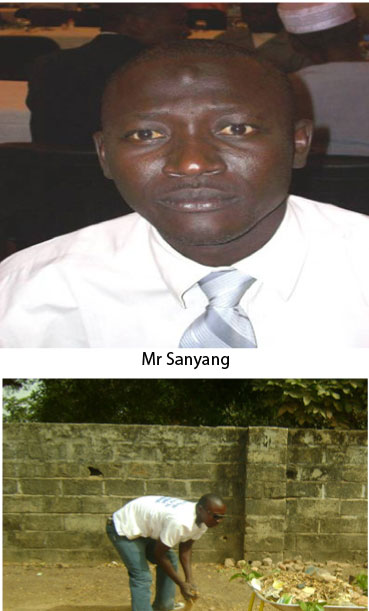 As this rainy season progresses with high hopes, there have been renewed calls for more concerted efforts in the management of waste through active participation in the monthly cleaning exercise (Set Settal).
The exercise, held once monthly, is said to be geared towards preventing or ameliorating the numerous negative health and environmental impacts associated with poor waste management in urban settlements, particularly during the rainy season.
Alkinky Sanyang, Assistant Programme Officer for Environmental Education and Communication, National Environment Agency and Mr Modou Jonga, Public Relations Officer made these calls in an interview with The Point Newspaper's Environment Columnist.
According to Mr Sanyang, the nation derives tangible benefits from maintaining a clean and healthy environment and the mass mobilization of the general public to conduct the cleansing exercise is extremely necessary.
He stated that waste such as empty glass bottles, metal cans, tyres among others are capable of holding rain water and serve as the perfect breeding grounds for the larvae of mosquitoes and other vector-borne insects.
He noted that the monthly exercise should be accorded the priority it deserve so as to remove all such empty canisters capable of holding rainwater from compounds, streets corners and other public facilities at this time of the rainy season.
Sanyang stressed that the success of the exercise would have a direct positive result on the lives of the people, thus reduce malaria related cases in the rainy season.
"Malaria being one of the killer diseases in the country must be tackled with all seriousness by clearing and cleaning all dirt around homes and public places during the exercise," he said.
He added that as a result of this year's heavy down pour and increase in waste generation, the NEA assumed that large volumes of waste are waiting to be collected in homes, schools, markets and other public facilities.
"Without the necessary mass mobilization of the public, a large portion of these waste volumes would remain uncollected and thus posing environmental hazards to the general public," he opined. 
Sanyang went on to appeal to all companies, civil servants, women and youth groups, private citizens and foreigners alike to come out in large numbers to make our nation clean.
He reminded the public of the anti-littering regulations passed into law as follows.
Throwing of any litter from motor vehicles in streets and along highways (driver is held responsible); failure to keep the perimeter fence of one's property clean, throwing of any litter/waste into public drain or gutter, discharge of any form of liquid waste from one's property unto the public street or any gutter/public drain;  dumping of waste in vacant plots or properties, throwing of any litter in public places;  littering by street vendors/sellers/shop keepers; failure to keep one's area of business clean; urinating in the street or undesignated areas among others attracts a fine ranging from D1000 to D5000 and spreading of litter by all waste collectors in street/areas can attract fine from D5000 to D30,000.
He stated that the NEA and its inspectors will continue to serve summons to all offenders of the anti-littering regulations to pay their fines at the Special Environmental Magistrate Courts.
He urged all property owners and shopkeepers to keep the perimeter fence of their properties up to the middle of the adjacent road free from litter to avoid unnecessary fines.
For his part, Modou Jonga, Public Relation Officer (PRO) of Brikama Area Council stated that the dream of achieving sustainable development cannot be achieved without a positive and holistic move towards waste management and disposal.
Noting that his Council have an environment and health sanitation unit tasked with the responsibilities of coordinating and managing all environment and health related issues including collection and management of waste management within the Local Government Area, Jonga said a waste management and collection system is in place that is tailored to suit waste management and disposal problems in the West Coast Region.
This, he said, seeks to complement the efforts of the monthly Operation Clean the Nation initiated by President Yahya Jammeh.
In the West Coast Region, Jonga, added, council staff responsible for waste and rubbish collection rotates on a daily, weekly and monthly basis, working hand in glove with communities to clean their environment.
"We would want to involve all community members as potential stakeholders by bringing the monthly activities to their doorsteps in a bid to help them be responsible for the cleaning of their own environment," he stated.
According to him, as part of efforts to expand their waste management, Council despite its limited resources has allocated a special budget to this unit (environment & health sanitation) to support the unit in terms of materials such as wheelbarrows, rakes, shovels, garden forks, gloves and masks to better equip its personnel to execute their functions effectively and efficiently.
Noting that it is the primary responsibility of the council to provide basic services for the tax payers, Jonga said the newly developed waste management strategy will address waste or garbage collection in the entire growth centre's and other expanding communities within the Local Government Area.
He disclosed that the council has tractors running the services of waste collection and disposal.
He appealed to all philanthropic organizations to support and provide his Council with more tractors, bins, trailers and other materials that would enable their waste management process.
"A clean environment hosts healthy people," he said, adding that the issues and needs of the taxpayers are the highest priority on the council's agenda and satisfying the taxpayers in terms of service delivery is their pride.
Jonga however lamented some of the constrains facing the council in terms of waste management and collection within the LGA.
This, he said, includes urbanization, indiscriminate dumping sites, people's attitude towards waste management and failing to adhere to the anti-littering rules and regulations among others.
He used the opportunity to call on all and sundry to ensure that they go by the rules and regulations of the anti-littering regulations and dispose their rubbish to the designated dumping sites by the council.
For your comments, suggestions and contributions, please contact (220) 6361340 or Email: asallah6@yahoo.com
Read Other Articles In Article (Archive)