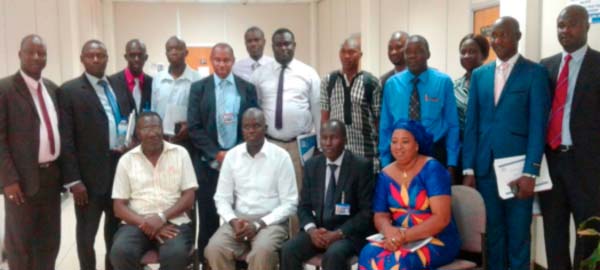 The Central Bank of The Gambia Staff Cooperative Credit Union (CBGSCCU) Wednesday held their 3rd Annual General Meeting at the central bank conference hall in Banjul.
The AGM attended by CBGSCCU members and people from other credit unions, was held on the theme: "Save today for a better tomorrow."
Speaking at the meeting, the CBGSCCU chairman, Michael Barrai, said the credit union was established in July 2013, with the objective of providing alternative sources of financing for staff of the bank (existing and retired).
He said they still maintain and would continue to maintain that objective, which would be highlighted in the treasurer's report.
"The period under review has been marked by strengthening of the union by critically looking at the ways and means of improving what was being availed to members, and coming up with ways and means of improving all the areas that a well-developed credit union should have."
He also said the committees created during the last period and mentioned in the last AGM had worked on the areas assigned to them and had come up with recommendations, which were discussed at the board level.
Mr Barrai added that the main achievements up to the period under review included the increase of loans issued and mobilisation of funds as members understand the union and its importance, creation of new products and services that would be rolled out for members to benefit.
NACCUG's General Manager Baboucarr Jeng, in his remarks on the occasion, said credit unions are unique compared to banks in the sense that anytime the union is to hold meetings "everyone who is part of the credit union is informed when meetings are to be held".
"This could only be found in credit unions," he said. "There is no discrimination in credit unions whether you have saved D1 or D200 we are all equal when it comes to benefits or shares of profits compared to banks, which is the reverse."
He said further that there is also a democratic structure in credit unions because "you have a voting right. Credit unions are service focused and social goal performance; this is to improve the services of the people among the credit union".
He disclosed that the CBGSCCU is in the process of introducing mobile money, courtesy of Unique Solutions, where members can receive or send money between credit unions across the country.
The Governor of the Central Bank of The Gambia, Abdou Colley (who is also a member of the credit union) in his remarks, said credit unions are "very good institutions where you could talk of justice, social responsibilities and equality."
It was said that everyone is equal in the eyes of God, so as credit unions, he noted, saying they are all the same and equal too, they share the same values and the same ideas when it comes to credit unions.
Governor Colley also said: "I want to challenge the board to brainstorm on how the Central Bank of The Gambia can support this credit union, because it still falls within the rules and regulations of the bank."
Read Other Articles In Article (Archive)