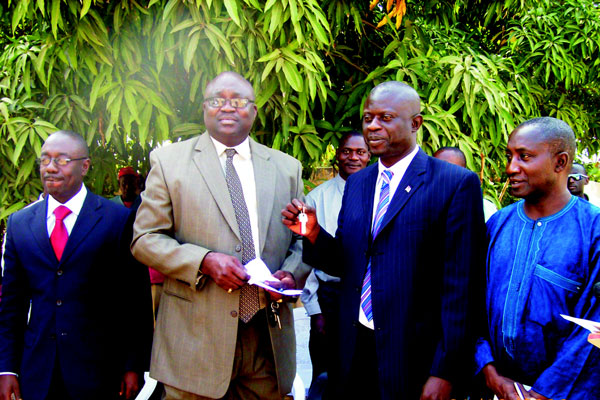 As part of its unending benevolence, Trust Bank Gambia Limited recently completed the refurbishment of the Royal Victoria Teaching Hospital Sanatorium at a cost of D70, 000.
The Bank, which has over the years been in the forefront of demonstrating its corporate social responsibility by dedicating generously from its profit to nation building, also sponsored the construction of the Sanatorium few years ago.
This, it should be noted, follows the bank's inspiring donation of D50, 000 to the organising committee of the just concluded National Youth Conference and Festival (NAYCONF).
Speaking at the handing over of the keys at a ceremony held at the Sanatorium, the General Manager, Banking, Trust Bank, Mr. Oreme Joiner, said it is a tradition for Trust Bank to share their profit with the Gambian people especially in the health sector.
He revealed that Trust Bank has spent over a million Dalasi's on The Gambia's health sector alone.
"We have refurbished the sanatorium for over D994, 500 in the health sector this year, with another D70, 000 for the refurbishment of the kitchen, toilet and the dinning room for the sanatorium", he said.
According to Mr. Joiner, Trust Bank is also sponsoring Business coalition for HIV/AIDS, AFPRC hospital in Farafenni, Gamblood and Bakoteh Multi Purpose Centre.
Mr. Saihou Janneh, deputy permanent secretary at the Department of State for Health, expressed his delight in Trust Bank for their support to the health sector. He called on other stakeholders to emulate Trust Bank.
For his part Dr Tamsir Mbowe, chief medical director of the RVTH, described Trust Bank as a true friend of the Gambian community especially the health sector. "They are examples worth emulating in this country. The bank doesn't only receive from people but also tries to give back to the people,"  he said.
According to Dr Mbowe, he who maintains the health of people maintains the welfare and wellbeing of the people.
Mr. Mafu Ceesay, a senior nursing officer at the RVTH sanatorium, delivered the vote of thanks. He appealed to  other stakeholders to emulate Trust Bank by providing an ambulance for the sanatorium and also the fencing of the area.
Read Other Articles In Article (Archive)