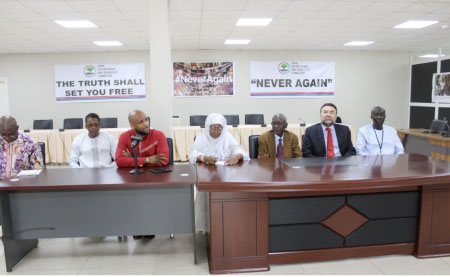 Four victims of human rights violations during the former President Yahya Jammeh's dictatorial regime, who have testified before the Truth Reconciliation and Reparations Commission (TRRC), have on Friday been awarded air tickets with three escorts for free overseas medical treatment in Turkey. They are expected to leave the country on Monday.

Among the victims are Abdou Karim Jammeh, Yusupha Mbaye and Oumie Jagne, who suffered gunshot wounds during the students' demonstration in April 2000, and Nogoi Njie who was arrested and detained as a result of the 2016 protest.
The presentation ceremony was held at the TRRC premises and the victims who will be accompanied by three escorts, got the sponsorship from the Turkish government, three tickets from The Gambia Ports Authority, two from Unique Solution and TRRC provided two air tickets and paid the daily sustenance allowances to victims and their escorts.
Ismail Sefa Yuceer, the Turkish ambassador to The Gambia, in an interview with The Point, promised Turkish continuous support in providing free medical treatments to Gambians annually, while stating that victims' medical files were sent to Turkey but it was too late for some to be treated.
"We have met all the charges of the treatment and it will be free treatment and accommodations. We are expecting good result from the treatment because the victims are good for The Gambia and must especially fight for democracy."
The deputy chair of the TRRC, Mrs. Adelaide Sosseh, who is also the chairperson of the Reparations Committee, expressed delight for having succeeded in sending the victims for overseas medical treatment, while thanking GPA and Unique Solutions for their support. She said the TRRC's contribution is from the fifty million dalasi the Gambia government provided for reparations. Mrs. Sosseh also acknowledged support given to victims by Gambians home and abroad and encouraged others to support the victims.
Representative of the victim center and chairman of the board of directors, Baba Hydara, has disclosed that the victim center has been working on its free medical treatment for long time before the establishment of the TRRC.
"The support came up when we got to know that some of the victims were not getting better and need urgent treatment, we decided to seek for support. We visited the Turkish Embassy and the ambassador was so kind to help and we are so glad for the amazing gesture he did for the victims. We promised not to forget this because is our first support from institutions."
Other speakers included Dr. Baba Galleh Jallow, TRRC's executive secretary and Mr. Ousman Jobarteh, managing director of The Gambia Ports Authority.
Read Other Articles In Article (Archive)