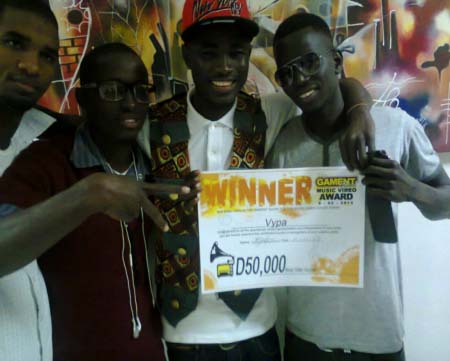 Young upcoming artistes are doing everything possible to develop themselves in music as well as take the country's music industry to the world.
Amadou Secka (alias Vypa), Gambia's upcoming rising hip-hop cum rap Mbalax artiste, has released double mixed tapes the first of which is titled "Hustle Matic Scriptures" and the second "Apocalypse".
Speaking in an interview with Entertainment and Lifestyle at the weekend, Amadou Secka said he is yet to produce an album, adding that "Hustle Matic Scriptures" contains two popular singles such as "Heavy flow" and "One life to live"featuring Rugie, whilst the second mixed tape entitled "Apocalypse" consists of other hit songs like "Amoreh" and "Must Get There", which are all combination songs done with Lena and Singhateh respectively.
The young Gambian artiste said his recent award for the best music video, entitled "Skinny Boy- Fly" by the Garment Show, a weekly entertainment slot on the state TV (GRTS), was a moment of great achievement in his music career.
This, he added, marks an important milestone in his career as a solo artiste.
He vows to plough the money received from the award to more new projects to come up with more fascinating materials from his music.
"Big respect to all my fans who voted for the video, especially my newly established fans club called Squad Vypa and I appreciate their support," he said.
He also said: "If the Gambian music scene is to gain reputation and status, the collaboration between promoters, artistes and the general public should be reinforced and they should work hand-in-glove to achieve the Gambian music dream."
He urges his fellow artistes to be patient and accepting criticism, saying doing so is the fundamental principle to realizing their strengths and weaknesses as artistes, in order to achieve their aspirations in life.
Making his name in The Gambia's music scene asa solo star a couple of years ago, the rising sensation Vypa, with his short spell in music, has over the years produced thrilling melodious songs, ranging from Ndaga to hip-hop varieties.
With smooth communicable voice, plus his creative talents, Vypa is really one of The Gambia's spectacular stars who continue to win the hearts and minds of many music fans in the country.
EndFragment
Read Other Articles In Article (Archive)